FOSSPicks
FOSSPicks
Ocenaudio 3.3.6, Otter Browser, Joplin, WeeChat 2.0, Mailspring, Siril 0.9.7, SuperTuxKart 0.9.3, and more!
Audio editor
Ocenaudio 3.3.6
The Audacity audio editor is excellent and powerful, but its user interface (UI) reflects the lack of any major updates for years. Like Gimp, there has been very little to compete with its capabilities, making Audacity the go-to application for any audio processing job, big or small. Ocenaudio, however, is a strong contender for Audacity's crown, with many small updates over the last 12 months and a modern Qt-based UI. It has had dark and light color schemes for a while, as well as high-DPI support from version 3.1.0. The UI scrolls seamlessly into and out of a waveform and lets you scale the view from the small overview envelope so that it's easy to navigate through large files. Most importantly, Ocenaudio also works well with PulseAudio; Audacity still seems to struggle.
Monitoring is a real strength in both application, but even here Ocenaudio wins. It has a large, high-detail volume unit (VU) meter, the ability to see a spectrogram alongside the amplitude waveform, and a floating FFT analytics window for specific slices of audio time. It's a pity the internal effects don't run in real time in the background or that their parameter windows don't offer more feedback (e.g., amplitude reduction or activity of the compressor and gate), but neither do Audacity's. What Ocenaudio does do, though, is allow you to see the audio waveform within the plugin window and use this to select a part to play back, during which you can change its parameters and apply the effect when you've dialed something suitable. This is a good half-way compromise between small preview clips and fully fledged real-time integration. The effects are good, too, especially the noise reduction. The Noise Reduction window lets you take a fingerprint profile of the background noise and process the audio in combination with a gate to remove the noise. It works brilliantly with the kind of noise you get from a low signal or cheap microphone.
Ocenaudio also offers a quick, powerful, and precision-based editor that can easily replace Audacity for most tasks. Place the cursor somewhere within the audio file and press record, for example, and Ocenaudio automatically records in-place. This is perfect for overdubs or replacing swear words in podcasts without going through the arduous process of recording something else separately and pasting it in. If you do need to work with several files at once, Ocenaudio has a handy side panel that lets you switch between them instantly or quickly paste to a new buffer that can easily be edited and pasted back into another of your recordings. Finally, to round off the feature set, its default file format is WAV, as used by almost every other audio application outside of Mac OS, except for Audacity, which requires you to export your audio and defaults when saving to a project file. The real winner in all of this is us, of course, as we now have a choice. Both projects are wonderful in their own way, and competition may just push the envelope with any new versions.
Project Website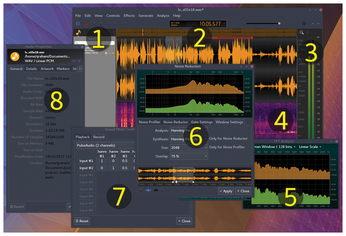 1 File management: Open more than one file, tab between them, and paste to new ones. 2 Zoom and regions: Quickly scale the view and create regions for looping and overdubs. 3 VU meters: High-precision metering to ensure no clips or glitches. 4 Spectrogram: Alongside the amplitude waveform, the spectrum shows the frequency range of audio over time. 5 FFT analysis: A spectrum view of a single slice of time. 6 Effects: Real-time previews from inside the plugin window and excellent noise reduction. 7 Routing: Control all inputs and outputs to PulseAudio. 8 Audio properties: Make notes, add artwork, and see region markers.
Web browser
comments powered by

Disqus
---
Support Our Work
Linux Magazine content is made possible with support from readers like you. Please consider contributing when you've found an article to be beneficial.
---