FOSSPicks
Process killer
fkill
There are as many ways to kill a process in Linux as there are to start them, and everyone has their favorite. Mine is typing ps aux | grep <process name> and then killing that process off directly with a cast of the kill -9 <process id> command, although I also resort to killing via top if the process is stealing CPU cycles and is difficult to track. Both of these methods have risks associated with them, especially top, which will let you type k on whatever process happens to be at the top of the CPU stack and kill it with a simple press of the Return key. fkill is a better alternative that also runs from the command line. What makes it better is that it's interactive. Running it with no arguments will list all the processes you currently have running, and you can cursor through those.
More like a menu, your selected process will attempt to stay in the middle of the selection as you scroll the list up and down. You can also start typing, and fkill will search for running processes containing your text. When you find the process you're looking for, such as PulseAudio, a simple press of Return is all it takes to kill the process (if you have the permissions), so you still need to be careful, but you can see clearly what you're doing and what's going to happen. One neat feature is that you can enter a process name or ID from the command line to kill that process without the menu. You can also kill a process bound to a specific port by prefixing the port with a colon. It's simple, but it works very well and is well worth replacing your current kill regime, because killing an editor containing your latest novel edits is never fun.
Project Website
https://github.com/sindresorhus/fkill-cli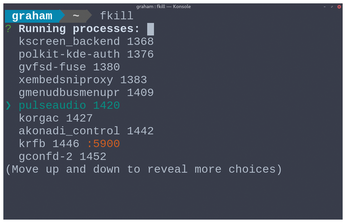 Turn your process list into a menu of tasks to be destroyed.
MIDI editor
comments powered by

Disqus
Visit Our Shop
Direct Download
Read full article as PDF: