Exploring Ubuntu 18.10 "Cosmic Cuttlefish"
It's All About Apps
Ubuntu 18.10 reflects the work Canonical is doing to lower the bar for app developers to attract mainstream developers towards Ubuntu. Canonical has been working on their app package – and on a delivery mechanism called Snap. Snap enables developers to offer pre-built packages of their applications, removing the dependency on system-wide frameworks and libraries that turned distros into gatekeepers.
With Snaps, developers can package their apps, and users can download and install them easily. Since there is no dependency on the system, developers can use the latest libraries to offer the latest features.
"We have deepened the Snap integration [in Ubuntu 18.10] within the desktop experience," explained Cooke.
But you don't have to go out of your way to install these applications.
Ubuntu 18:10 comes preinstalled with a decent set of applications that allow a user to get to work as soon as you boot into it.
Ubuntu 18.10 comes with LibreOffice (productivity suite), Firefox (web browser), Rhythmbox (music player), ToDo (task management), Thunderbird (email client), videos, and a text editor. For many end users, this collection is all you need.
The only change I made was configuring email clients. Although Thunderbird is fantastic, I prefer the tight integration that Evolution offers for email, contact, and calendar. It's very easy to configure it. Open Settings and go to the Online Accounts tab (Figure 4).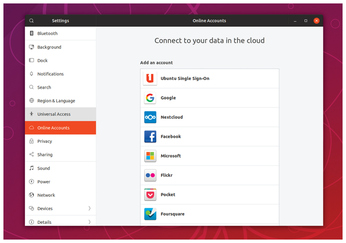 Figure 4: Configure the online accounts that you want to integrate with Gnome.
I use G Suite, so I chose Google. Provide it with account details, and it will ask your permission to give Gnome access to the account. Voila, Gnome can now manage your account (see Figure 5).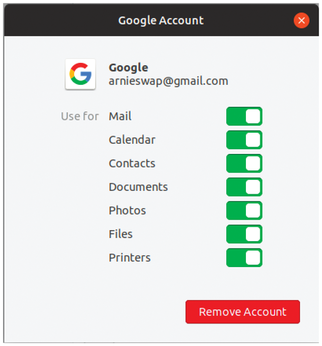 Figure 5: The Google Account dialog shows which services will be accessible by Gnome.
Evolution doesn't come preinstalled, but you can easily install it using either the command-line interface (CLI) or from Ubuntu Software Center.
To use the CLI, simply open the Terminal app and run these commands:
sudo apt update
the command will refresh the repository information so that it downloads the latest packages).
sudo apt install evolution
This command will install the Evolution email client.
If you prefer a GUI, open Ubuntu Software Center and search for Evolution, and then install it with one click.
Because I already configured an online account, as soon as Evolution was installed, my email account, calendar, and contact book began to populate (Figure 6).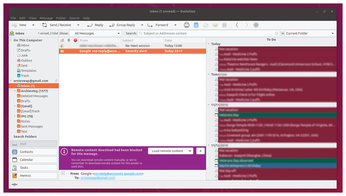 Figure 6: Once configured, Evolution offers tight integration with email, contacts, and calendar.
Ubuntu is a great distro for gamers. With its large install base, the Ubuntu project tends to get good graphics processing unit (GPU) support for new GPUs. Ubuntu is also used for deep learning and machine learning workloads, so GPU vendors like Nvidia work with Canonical to support both physical GPUs and virtual GPUs (vGPU).
If you are a gamer, installing the Steam client will bring not only Linux games, but also many Windows games that Valve Software (the maker of Steam) is bringing to Linux via Wine.
While I'm on the subject of Wine, you can always use Wine and PlayOnLinux to install many Windows apps in Ubuntu.
Know Your Ubuntu
Once you install your Ubuntu, the first thing you must do is update your system. You can do it either with the CLI or a GUI-based Ubuntu Software management tool. If you are using the CLI, then run the following command:
sudo apt update && sudo apt upgrade
As you can see, this is actually two separate commands: The first command refreshes the repository info, and the second command installs any available updates. You can also run the following command:
sudo apt dist-upgrade
which will upgrade the packages to the latest version and also remove older packages.
Ubuntu comes with three tools for software management. The Ubuntu Software app [1] helps to install applications. The tool is also capable of installing system-wide updates. If there are any updates available, you will see them in Ubuntu Software app. You can also use the app to remove installed applications.
Software Updater is a tool whose sole purpose is to check available updates and install them.
However, if you want to fine-tune what kind of updates you want to install, you need the Software & Updates tool (Figure 7), which you can also open by clicking on Settings in the Software Updater tool.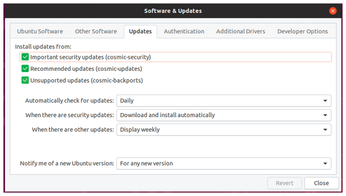 Figure 7: Get total control over how updates are managed on Ubuntu.
The Software & Updates tool allows you to enable repositories, so you can download and install proprietary drivers and packages restricted due to copyright and other legal issues (Figure 8).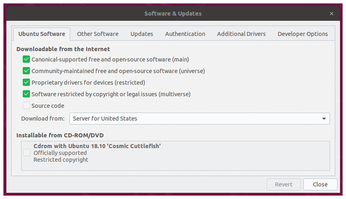 Figure 8: If needed, you can install restricted drivers and packages.
The Other Software tab gives you access to applications packaged by Canonical partners.
The Updates tab allows you to fine tune how frequently you want Ubuntu to check for updates and what kind of updates to install. I would recommend that you do updates as frequently as possible.
If you have any specific proprietary hardware, such as a GPU, the Additional Drivers tab gives you the option to use proprietary drivers for that hardware.
I wish all of these tools were part of Ubuntu Software, so that users could manage everything from one place.
Fine-Tuning Gnome
The default layout of Ubuntu 18.10 is lovely, but you can fine tune it to your liking if you feel like making changes. Install the Gnome Tweak Tool, which will allow you to change theme, icons, fonts, move windows titlebar buttons, and more.
You can also install third party extensions to add extra functionality to Ubuntu. Unfortunately, there is still no built-in tool to manage extensions. You need to open the Firefox web browser and visit https://extensions.gnome.org/.
Enable the browser extension from the pop-up dialog box. Now you can easily install third-party extensions and manage them from the Tweak Tool.
comments powered by

Disqus
Visit Our Shop
Direct Download
Read full article as PDF: