FOSSPicks
Atari ST emulator
Hatari
When it comes to emulation, the Atari ST is often overlooked in favor of the Commodore Amiga. This could be because Commodore's story is the more romantic: an underdog with superior hardware under the custodianship of an owner incapable of building on its advantage. The Atari ST was also hugely successful in the 80s, to such an extent that it became the bane of every Amiga owner as they suffered substandard game ports from its rival, the lowest common denominator. But it's still a huge chunk of many childhoods, and as a result, great fun to play with via an emulator like Hatari. What's also great about Hatari is that it has very few dependencies, it's cross-platform, and you can easily build it yourself. All you need to get rolling is a legal copy of Atari's ROM or a copy of the free EmuTOS ROM.
If the emulator locates your ROM, it will launch and present you with the old GEM desktop in all its wonderful green and gray glory. Hatari's UI is equally austere, looking like something built in the Unix/X windows/Motif era, but also totally fitting with the late 1980s. As with the Amiga emulator, UAE, you press F12 to bring up the options overlay. From here, you can insert floppy disk images, hard disks, joysticks, and upgrade the memory and CPU with a click of a checkbox, although this may break compatibility. And compatibility is brilliant. We raced through lots of old games, from Captain Blood to Midwinter, and everything seems to work faultlessly. The emulator also handles MIDI for controlling keyboards and synthesizers. This means that Hatari could be used for more than nostalgia as there's a growing trend for modern musicians to go back to old software for its simplicity and durability.
Project Website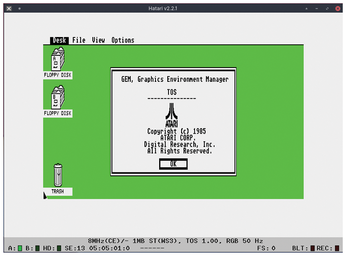 Play games and even use MIDI equipment with this brilliant recreation of an Atari ST.
comments powered by

Disqus
Visit Our Shop
Direct Download
Read full article as PDF: