Get to know BionicPup, the latest version of Puppy Linux
Installing New Applications
New software can be installed from the command line, Package Manager, or Quickpet Bionic 64 (Figure 3). Quickpet is particularly handy if you are interested in downloading from a selection of the more popular apps available to Linux. While the selection is fairly modest, users can find some excellent packages for most tasks. Quickpet does not have the variety of the Ubuntu Software Center, but the basic principles are the same. From here you can download top Linux apps like Thunderbird and LibreOffice. If you're dissatisfied with Pale Moon, you can also install the standard Mozilla Firefox browser or even Chromium.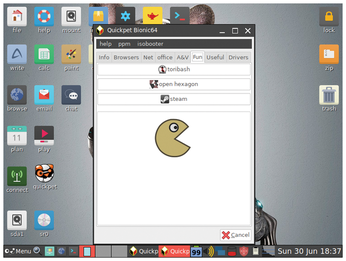 Figure 3: While Quickpet may not have the same variety you can find for larger distros, it still offers some of the most popular programs.
If your program of choice isn't available via Quickpet, you can launch Puppy Package Manager via the Setup shortcut on the desktop. While the selection here is smaller than that offered by bigger distros like Ubuntu, it does make more programs available than Quickpet. For instance, while Quickpet only contains a few generic games platforms in its Fun category, you can use Puppy Package Manager to install the ever popular Sunfish Chess.
Although Puppy Linux is based on Ubuntu, it's an operating system in its own right. This means that traditional apt-get commands won't work in Bionic's Terminal. Technically you can use the Terminal to manually download and compile programs that are unavailable via Quickpet or Puppy Package Manager, but you'll still need to use the Package Manager to install any dependencies.
Some gifted developers have compiled their own Puppy-compatible versions of apps into installable PET files. Many of these are available via the Puppy Linux forum [5]. Install at your own risk. The lack of support for apt-get also means that users can't update or upgrade Puppy in the same way as Ubuntu. The easiest and fastest way to update the OS is by installing new ISOs as they become available.
Installing Puppy to a Hard Disk Drive
Puppy's minimal paw print combined with its special write-caching method on flash drives makes it suitable for installation on a wide variety of media (Figure 4). If you're booting from a Live CD or USB, click the Install icon to begin setup. You'll be offered a choice of the more traditional Universal Installer, which is designed for hard drives, or BootFlash USB Installer, which is perfect for USB devices. To install Puppy Linux to your machine's HDD/SSD, click Universal Installer. Select your drive type from the list available, and then choose the specific installation disk. The OS supports a number of drive formats including FAT32 and NTFS, but for best performance use a drive formatted specifically for Linux (e.g., ext3). If your drive has no partition table, the installer will prompt you to launch GParted to format and make it bootable. Press OK to confirm your install location.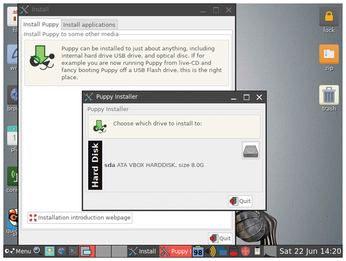 Figure 4: Installing Puppy Linux onto a hard disk is a breeze and completes in a matter of minutes.
Setup offers two installation methods. The first, Frugal, will install a bare minimum of apps to get you started. The Full installation is self-explanatory. Whichever you choose, you can always add more programs later via Quickpet or Puppy Package Manager. If you choose a full installation, you can opt to use an initial ramdisk. This is an initial root filesystem, which is mounted prior to the real one. An in-depth technical explanation of this feature is available via the IBM website [6], but as the installer explains, this offers greater speed and stability over installing everything to disk.
Paws for Thought
Puppy's main strength lies in its ease of setup and use. If you're looking for a lightning fast and simple way to recover files from a booted hard drive, there's no better alternative: The OS is optimized to run in RAM, so it will be ultra-efficient at recovering files.
Annoyances may begin to creep in for Linux users who are used to a more flexible and customizable OS. Puppy geeks must content themselves with the default suite of apps or those available via the Package Manager, unless they fancy some hardcore compiling.
Installation to hard disk is an absolute breeze, but the OS does need some tinkering, such as adding a more powerful office suite, before it can become a fully-fledged desktop OS. Given its lightweight nature, it's surprising that there's no officially maintained port for ARM devices like the Raspberry Pi, as Puppy Linux would otherwise run perfectly well on a small-board computer.
While updating and upgrading Puppy Linux isn't as simple as other Ubuntu-based distros, this is balanced out by an extremely quick setup process. There's also an excellent help guide and community forum available for users who run into difficulties. If you need a quick response, use the excellent preinstalled app HexChat to connect to Puppy Linux's IRC channel [7].
comments powered by

Disqus
Visit Our Shop
Direct Download
Read full article as PDF: