FOSSPicks
FOSSPicks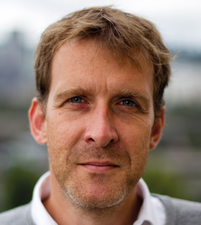 After building a 3D printer last month, Graham's home is now filled with cup holders, phone holders, cable holders, and tiny PLA boats. This month, Graham explores Zrythm, Mumble 1.3, NoteKit, Kirogi, monolith, pastel, Nu Shell, PacVim, Stunt Car Racer Remake, and more!
Digital audio workstation
Zrythm
New audio applications on Linux are few and far between, because creating one is an arduous task that often takes years with little prospect of reward. We've been lucky over recent years with the release of the excellent (and proprietary) Bitwig, Reaper, and Tracktion 7, but there's been very little in the open source space. Which is why Zrythm is such a pleasant surprise, arriving seemingly out of nowhere as an already comprehensive audio recording, mastering, and MIDI sequencing application. It is considered an alpha release by its developer, so this is early days for development. The app does sometimes crash, and it's a little picky when you're not using JACK, but Zrythm is already capable of taking you from composition to completion in an application that feels very much like its commercial counterparts.
The first thing you notice in Zrythm (other than that the word "rhythm" is obviously a tricky word to spell) is that it has a beautifully modern and dynamic GTK+3 user interface. The application operates like a DAW, such as Cubase, but its fantastic UI design makes it feel more like Bitwig Studio, Ableton, or Renoise. This is because it's split into regions that share similar functionality. The raw track list on the left is where you can add audio and MIDI tracks, as well as groups and a special "chord" track. On the right is the media viewer, which can list LV2 plugins, instruments, and audio files. The plugins themselves are distinguished between audio processors and instruments by their color, and you add plugins to your project by simply dragging them onto the track or into a blank area to create a new track. At the bottom is the clip or section editor, which can be tabbed to show the same kind of vertical mixer you get in Ableton or Bitwig. This then allows you to drag and drop effects or dynamically control the volume of a track across the mix.
Zrythm promises unlimited automation, which means you can adjust the value of almost every parameter over time. Automation data is beautifully drawn in the audio track timeline, as is the audio and MIDI data. These can be edited in the clip view, which is fast and responsive, and feels better integrated than the MIDI editor in something like Ardour, for example. There are also plans for lots of modulation options that will change internal parameters with something like an envelope or an LFO. This could be much like the latest developments in Bitwig, where you connect control signals between different sections of the audio engine. But even without these advanced features, and with the obvious caveat that it's currently too unstable and lacking in certain important features for production work, Zrythm already comes together as a slick package, and it is one of the best ways of composing music and exporting the audio files on Linux.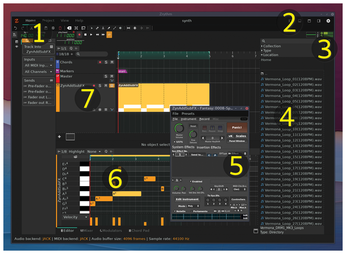 1. Audio engine: Use JACK or ALSA for audio and for MIDI, and sync across both. 2. Dynamic UI: Toolbars change, depending on the mode, and each pane can be enabled, disabled, and resized. 3. Media browsers: Much like Bitwig, you can easily switch between views of your content, your plugin list, and the audio outputs. 4. Clips and loops: Drag and drop audio loops, virtual instruments, and effects into the main view to add them. 5. Automation: Almost every parameter within the DAW can be automated. 6. Editor and mixer: Switch between audio and MIDI editors and a mixer view of tracks, inserts, and buses. 7. Track view: Audio, MIDI, and automation data are shown for each track, alongside a unique track for chords, and automation data.
Project Website
Voice chat software
comments powered by

Disqus
---
Support Our Work
Linux Magazine content is made possible with support from readers like you. Please consider contributing when you've found an article to be beneficial.
---