Explore Fyne, a GUI framework for Go
Programming Snapshot – Fyne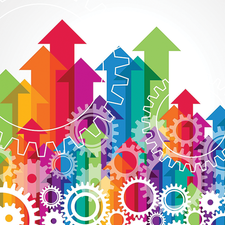 With the Fyne framework, Go offers an easy-to-use graphical interface for all popular platforms. As a sample application, Mike uses an algorithm to draw arrows onto images.
My new favorite language, Go, impresses with its image processing routines, manipulating the pixels in an image just as quickly as ordinary numbers or text [1]. I often paint arrows in digital images, either for illustration purposes or to point out something funny in a snapshot, and I wondered how hard it would be to automate this task. Thus far, I have always had to fire up Gimp, select a path with the Path tool, and then place an arrow in the image with an Arrow plugin that I downloaded from somewhere on the Internet. With Go, there's got to be an easier way!
GUI Preferred
Actually, I prefer command-line tools, but sometimes a traditional graphical interface is just more practical, for example, to select a place in a photo where I want the program to draw a red arrow.
The arrow in Figure 1 illustrates, for example, that the tape measure in the photo, which I found while rummaging through my dusty desk drawers, is an age-old tchotchke from the once thriving company Netscape. Remember them? Yes, the browser manufacturer, where I worked for a few years during the 1990s, shortly after I left Munich and escaped to Silicon Valley "for a year" but somehow never found my way back.
[...]
Use Express-Checkout link below to read the full article (PDF).
comments powered by

Disqus
Visit Our Shop
Direct Download
Read full article as PDF: