FOSSPicks
PlayStation remote client
Chiaki
Sony has announced the PlayStation 5, but it's some way off, and the PlayStation 4 (PS4) still has plenty of life in it. In many ways, this late stage of a console's life cycle is often the best, with developers knowing how to get the best out of the hardware and a huge, stable number of players to sell games to. It's also a stage where small tools come out of left field that can really upgrade your experience, and that's what Chiaki does. It's a remote client for accessing your PS4 across a network on your Linux box. The idea isn't new, and Sony has been offering its own remote play functionality to accomplish the same thing from the now defunct Vita handheld and PlayStation TV, as well as later clients for Windows and macOS. But there are obviously huge advantages for getting this feature natively, not least because the cooling fans on the PS4 sound like a runway at Heathrow, and it's better if you can get as far away from the console as you can to play your games in quiet.
The client can be easily built or run from an AppImage. When first started, it will hunt around your network for a console, which will hopefully soon appear in the discovered list. To connect to your console, you need to run a Python script that extracts a unique identifier connected to your PSN account from a new web-based account login. You then need to register a new device on your PS4 to get an eight-digit pin and enter all this into the Chiaki client. Fortunately, you only need to do this once. Your remote screen will then open on your Linux box, and you can then use your keyboard or controller to navigate around your PlayStation and play your favorite games. It works brilliantly!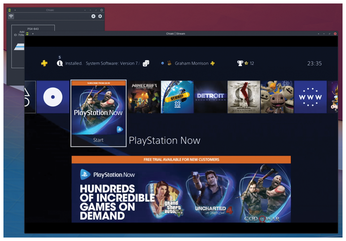 If you have a PS4, Chiaki lets you stream games to your Linux box at 60hz/720p. Pro users can push this to 1080p.
Project Website
comments powered by

Disqus
Visit Our Shop
Direct Download
Read full article as PDF: