FOSSPicks
FOSSPicks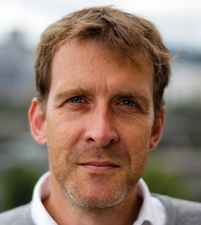 Graham explores glChAoS.P, Polar, RawTherapee, Gifcurry, Open Surge, and much more!
Fractal explorer
glChAoS.P
The infinite variety found in fractal geometry is a component in all kinds of practical things, from the generative realistic geometry of islands, rivers, and flora in video games and CGI, to being a principal character in the chaos theory of dynamical systems. But it wasn't so long ago that the beauty of fractals was enjoyed simply for its own sake. You'd launch a graphical fractal renderer on your PC and click around to explore the infinite zoom of a Mandelbrot branch, often cycling through as many garish colors as your graphics hardware could handle. These tools didn't even operate in real time, because the deeper into a fractal you traveled, the longer each beautiful view would take to render, eventually taking hours. One of my favorites was called ChaosPro, running on an Amiga, and some renders would take hours to generate a single frame. But it never detracted from my enthusiasm for these tools.
Now that computers and their GPUs are magnitudes faster than those old machines, there doesn't seem to be the same number of fractal exploration applications. However, this is one. glChAoS.P doesn't just share some of its (unpronounceable) name with ChaosPro, it's also an amazing graphical application that almost single handedly makes up for the lack of other options. Rather than letting you explore those old two-dimensional Mandelbrots, glChAoS.P harnesses the power of your GPU to let you explore "strange attractors" and "hypercomplex fractals." A strange attractor, like that chaos theory of old, is a structure that happens to exhibit a complex structure from a more easily defined set of initial conditions. glChAoS.P includes over 60 different kinds, and they all look considerably different. A hypercomplex fractal, new to recent releases of glChAoS.P, usually consists of three (or more!) dimensions. The mathematics behind all of these looks horrendously complex, but you don't need to understand it. This is because glChAoS.P does such a great job of making you want to experiment and play with the various parameters it offers while it continuously renders a perfectly realistic viewport on this unimaginably complex realm.
glChAoS.P is an acronym for OpenGL Chaotic Attractors of Slight (dot) Particles, and this helps to explain a little how the amazing graphics are rendered. The application can handle 100 million particles in less than 1.6GB of RAM, and these particles are used to visualize the structures, alongside options for glow effects, colors, 3D blending/solid, or lit particles. All of which combine to create super-realistic projections of totally alien sculptures, rendered in real time and completely manipulatable by the various sliders to control the fractals themselves. You can easily experiment with a view and navigate just as you would with any other application. It's also easy to navigate between the various demo files, and all of the parameters have their own sliders, color previews and values that can be dragged to modify them. The results are amazing, and if you've got the graphics hardware to drive it, you've got to take it for a spin!
Project Website
https://github.com/BrutPitt/glChAoS.P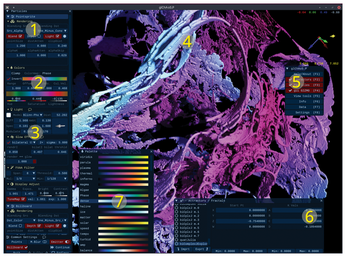 1. Rendering options: Fractals are rendered as particles, which can be processed in many ways. 2. Dynamic UI: Each palette can be expanded and contracted, with many options for every category. 3. Light: Illumination direction, quality, and shadows have a huge effect on the rendering time and quality. 4. OpenGL output: Your hardware is used to generate the 3D preview. 5. Main menu: Enable and disable parts of the GUI. This works well with the full-screen view. 6. Attractors/Fractals: Open and save example files, switch through presets, and adjust their main parameters. 7. Palette: Just like old fractal viewers, changing the color palette can change everything about the image.
Image processing
comments powered by

Disqus
Visit Our Shop
Direct Download
Read full article as PDF: