Solving the River Crossing Puzzle with Go
Programming Snapshot – Go Game States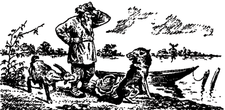 How does a ferryman transport a wolf, a goat, and a cabbage across a river in a boat that can only carry the ferryman plus one item at a time, without the wolf eating the goat or the goat eating the cabbage while left together back on shore? Mike programs the solution in Go.
Whether it is a wolf, a goat, and a cabbage, or one of the many variations on this scenario, keeping the participants safe during passage is part of the classic river crossing logic puzzle [1]. Humans find a solution to these brainteasers by trial and error. Computers, on the other hand, determine the solution by exploring trees of interlinked state sequences, eventually arriving at the desired final state by following one of many different available paths [2].
Before crossing the river, the ferryman, the wolf, the goat, and the cabbage are initially on the west bank. The ferryman can only take one of the three candidates into the boat and cross over to the east bank. During the crossing, he has to take care not to leave the wolf and goat alone on the bank, because the wolf would eat the goat. The same applies to the goat and the cabbage, as goats like to eat cabbage.
The riddle seems unsolvable at first. For example, once the ferryman has crossed the river with the goat and returns on an empty run, the only choice he has is between the wolf and the cabbage as the next candidate. However, neither will get along with the goat on the other bank. The trick is that the ferryman can also carry passengers on the return journey, thus ensuring that he never leaves a dangerous combination (goat/cabbage or wolf/goat) unattended.
[...]
Use Express-Checkout link below to read the full article (PDF).
comments powered by

Disqus
Visit Our Shop
Direct Download
Read full article as PDF: