FOSSPicks
Instant messenger
Dino
It feels like we're at an interesting juncture for instant messaging. On the one hand, we have the huge popularity of proprietary protocols run by corporates, like Facebook's WhatsApp, Apple's FaceTime, and Messages, Google's Meet and Hangouts, and Microsoft Teams. On the other hand, more people are wanting to control their own data, and are aware of the privacy implications of trusting a third-party to host and control some of their most private conversations. This may account for Telegram's growing popularity. The client is famously open source, but the server is infamously not. Unlike WhatsApp, it doesn't enable end-to-end encryption by default. Signal is another option and is truly open source and encrypted end-to-end by default. But this is also its disadvantage, because it can't handle group membership well, or sync messages across devices, although all this is being actively worked on. We even looked at Session, a fork of Signal, earlier. Matrix is another great open source option that's recently been adopted by Mozilla to replace its ancient IRC channels. It's good, but complex for general users not familiar with its federation.
Dino doesn't quite solve any of these problems, but it does remind us that the old familiar open Jabber/XMPP protocol is still active. There was a time when many desktop and mobile clients worked with this protocol, even with federation across services and corporations, and it still works well. Dino uses the Jabber/XMPP protocol to chat with individuals or add a group from a remote server to your client and chat. It also incorporates end-to-end encryption, via either OMEMO or OpenPGP, which once enabled, means messages that leave your system can only be decrypted by the receiver, regardless. Despite its alpha state, it works well and is only missing more users. Which means it's time to brush off that old Jabber ID.
Project Website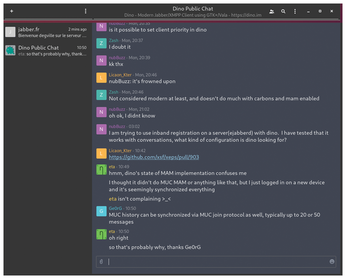 Even Google used the Jabber protocol for its messenger, but when many other services went proprietary, many of our contacts went with it.
Debugging GUI
comments powered by

Disqus
Visit Our Shop
Direct Download
Read full article as PDF: