FOSSPicks
Superposition puzzle
Quantum Tetris
Tetris is a timeless classic. Blocks made from a different arrangement of four smaller blocks fall into a 2D well, and it's the player's job to fit these together into seamless vertical rows of four to evaporate them to stop blocks filling past the top, after which it's game over. But what if Tetris could also teach you something about the nature of matter and time itself? That's a job for Quantum Tetris, a unique take on an old classic that follows the same old rules and adds a few more borrowed directly from quantum mechanics. The first of these is the use of quantum superposition pieces. The special new "superposition" piece is two shapes at the same time. A probability percentage, shown in the top right, is used to decide which shape the block becomes when it lands on the Tetris stack. When playing this piece, you find yourself gambling with the outcome, and placing it somewhere non-essential unless there's a dire need.
The second new rule is called "quantum entanglement." This rule binds two superposition pieces together across an imaginary vertical mirror plane through the middle of the play area. The second piece moves opposite to the first piece and will settle into the opposite state when the first piece lands. If you've played Tetris before, both these new rules break the muscle memory of your play style and are initially difficult to get your head around. But they both also fit perfectly into the original mechanic, adding a new level of complexity and challenge to a game that many of us have played hundreds of times before. The other great advantage is that you'll learn about quantum superposition and entanglement while playing.
Project Website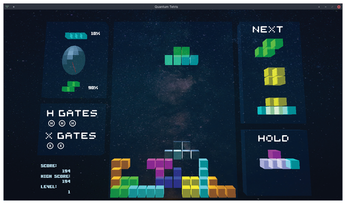 This game is amazingly polished and shows off the Godot game platform's capabilities.
Programming game
comments powered by

Disqus
Visit Our Shop
Direct Download
Read full article as PDF: