The Basics of Version Control
Command Line – Git Version Control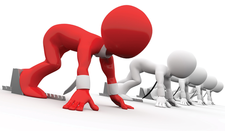 If you develop open source software, you need to know how to use Git. Information on Git fills books, but this basic overview will get you started with a vital open source development tool.
If Linus Torvalds were not already famous for Linux, he would be almost as famous for Git [1]. Within a few years of its first release in 2005, Git had become the dominant version control system in free software, replacing CVS and eclipsing rivals like Mercurial. Part of Git's popularity is no doubt due to Torvalds' own reputation, but a large part is also its highly organized structure: Every copy of Git is a complete repository with history and version-tracking tools that operates without a network or centralized server, giving it unmatched flexibility.
Torvalds began Git after BitKeeper, the proprietary version control system that the Linux kernel project had begun using in 2002, withdrew permission to use it freely, claiming that Andrew Tridgell had reverse engineered another version control system from it [2]. Because version control is a necessity for development, Git was functional within a few weeks. Torvalds jokes that "git" is English slang for an unpleasant person, and the command is therefore named for himself, just as Linux is [3]. More obviously, "git" is the pronunciation of "get" in some American dialects. The truth is, after a few months, Torvalds passed maintenance of the project over to Junio Hamano, and Git has continued to grow in complexity ever since.
Git's basic purpose is to create an environment for developing files – usually code, but sometimes text as well. Entire books have been written about Git, but here is an overview to get you oriented. For all the detail, the basics are actually simple and become more so with practice.
[...]
Use Express-Checkout link below to read the full article (PDF).
comments powered by

Disqus
Visit Our Shop
Direct Download
Read full article as PDF: