Distributed weather monitoring in gardens
Garden Tech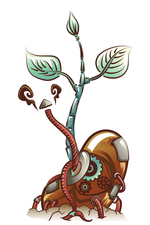 Place long-range wireless sensors in a garden and keep track of ambient conditions with gauges and time-based graphs.
As any gardener knows, an understanding of local weather plays an important role in gardening success. Frost can kill off delicate seedlings, too much sun can frazzle shade-loving plants, and too much moisture can suffocate roots. I have relied for a few years on a single temperature sensor outside and an indicator inside for an overview of the conditions outdoors. Although it is a useful tool, it has several drawbacks: The wired sensor is at a single, fixed location, only measures current temperature, and is too close to the house. I wanted a system that provides multiple measurement types at multiple locations, requires no wires trailing around the garden, would provide seasonal data to better plan for planting, and has the capacity for alarms to warn of frost and high temperatures. Ideally, the data would be available from a computer and mobile phone without installing additional software.
In this article, I describe the design and implementation of such a system with only free and open source tools in a Linux environment. With this system, I hope to identify microclimates within my garden and select optimum planting conditions for plants with different needs.
Multiparameter Sensor
The most important requirement for a sensor for this application is that it transmits data wirelessly, which, of course, implies battery power. I considered a number of wireless technologies, including WiFi and Bluetooth, but I rejected these on the basis of power consumption, limited range, and other reasons. I've worked previously with LoRa [1], a radio technology expressly designed for low data rate, low power, and long-range data telemetry. Additionally, the LoRaWAN wide area network protocol works with a network of public gateways and public "landing points" for data produced by sensors. This protocol exists expressly to build networks of Internet of Things (IoT) sensors.
[...]
Use Express-Checkout link below to read the full article (PDF).
comments powered by

Disqus
Visit Our Shop
Direct Download
Read full article as PDF: