Sparkling gems and new releases from the world of Free and Open Source Software
FreeCAD 0.20
A major 0.20 release gives us the perfect excuse to revisit this mainstay of 3D modeling and design. FreeCAD has been around for 20 years, and as a result, it's complicated. Much like Blender, this isn't an application you're going to master in 20 minutes. But also like Blender, it's capable of brilliant and professional results, from 3D printing to circuit design. There are several different ways of working with FreeCAD, with the most common being to develop your design from a two-dimensional sketch in the X and Y plane. FreeCAD uses the idea of workbenches to change its configuration to suit whatever way you work, and there are several that help with this stage by creating a 2D top-down view, for example. With that done, you first create a sketch before more menu diving to select the shapes you want to add. These are created interactively on the canvas, letting you drag their edges and points to fit the size you need.
In this way, FreeCAD is part Gimp and part Blender with one important difference: constraints. Constraints, such as the length of a side or the angle of something, are an important concept in FreeCAD because they define the shape of an object without any ambiguity. The object creation process involves going through each parameter and fixing it in place to create a constraint. When a shape is fully constrained, it turns green and is considered solved. Everything can be created by clicking and dragging a point or line, but also made exact by editing parameters, like a more interactive OpenSCAD. But like OpenSCAD, objects can also be fully programmed in Python if you wish. Fortunately, this new release helps massively with usability, including decent help text and improving lots of user interface elements, making them more intuitive and easier to use. It's still complicated, but also a lot easier than ever before.
Project Website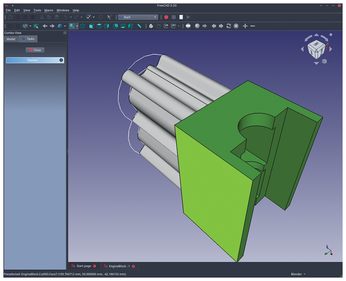 FreeCAD includes elements of OpenCASCADE Technology (OCCT) to perform operations on complex 3D shapes.
Audio plugin API
CLAP
This isn't a normal discovery because, rather than being something you can run, CLAP has been developed to help other people create things to run. Specifically, it's an API to help programmers write audio effects and synthesizers that can work with any audio platform. This should be a solved problem because that kind of API has been around for decades – most famously in both Steinberg's VST plugin architecture and Apple's Audio Unit app. These two dominate professional audio, and VST is popular on Linux where native plugins can be built or Windows VST plugins run through Wine. The problem is that neither of these APIs are open, and VST is still controlled by Steinberg. There are older open source alternatives, including LV2, LADSPA, and DSSI, but developers complain about their complexity and fragmentation, and each has failed to reach a critical mass of use outside of Linux, which is vital if any format is to succeed.
CLAP (short for Clever Audio Plugin) is a new open source audio API that's been designed specifically to be easy, adaptable, and efficient. It's also potentially much more capable than any other plugin format. It allows for per-note automation and modulation, parameter offsets, non-destructive performance sound modification, and per-voice parameters. None of this can be easily accomplished with the alternatives, making these genuine reasons to choose CLAP above all the other formats regardless of its license. Even more impressively, CLAP has been developed by two important companies, Bitwig and u-he. Both companies produce Linux versions of their software, with Bitwig in particular becoming hugely successful as a challenger to the industry standard Ableton Live. Bitwig is already a host for CLAP plugins, and u-he is in the process of converting theirs, as are other Linux-friendly software producers. It's important to note that CLAP's ambition is to succeed across all platforms, and its MIT license and a promise of open collaboration are just as important for this. Hopefully, it will be hugely successful.
Project Website
https://github.com/free-audio/clap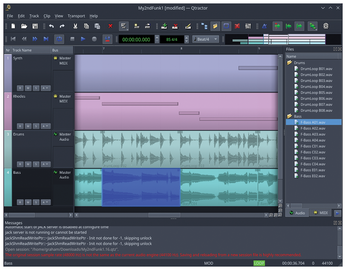 Bitwig's own software is one of the first hosts for CLAP, as is the entirely open source and brilliant Qtractor.
comments powered by

Disqus
---
Support Our Work
Linux Magazine content is made possible with support from readers like you. Please consider contributing when you've found an article to be beneficial.
---