An inside look at creating a podcast
Showtime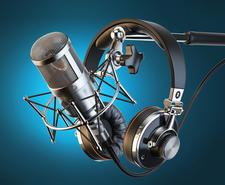 If you use Linux, you already have most of the tools you need to get in the podcast game. Just plan carefully and take it a step at a time.
Many of us have sat around discussing something with friends, maybe after a beer or a kombucha, only for someone to say, "This would make an amazing podcast!" Everyone says "Yes!" and nods enthusiastically, and the conversation shifts to talking about what to call the podcast, where it should be hosted, and whether recording something to a smartphone is good enough. Everyone goes to bed excited, only to wake up the next morning wondering why a podcast about mushroom varieties in Zelda sounded like such a good idea.
Or not. Sometimes a podcast idea does survive the next-day test, and there's never been a better time to start your own podcast. As a Linux and open source user, your technical skills are already well suited to the task, and as a talking point, knowledge related to Linux and open source technologies is perennial, always interesting, and applicable across a huge range of other subjects, from politics to cooking. This gives you a significant advantage over most other people who wake up with a good podcast idea, and it's an advantage that will help you overcome many of the initial barriers that stop people from making even their first podcast.
Have a Plan
The first thing to consider is a plan, and the first part of your plan should be deciding who should host the podcast. This can be even more important than the strength of the initial idea, because a compelling group of personalities can talk about almost anything. Many listeners will also want to feel like they're listening to friends, or to people who understand them and what they're interested in. It's harder, but you can do this alone too by communicating your passion for a subject, making it infectious enough for listeners to not want to miss an episode. A wonderful example of this is the History of English Podcast [1], started by Kevin Stroud in 2012 and originally intended to last a mere 100 episodes. His idea was to discuss the etymology of English words and phrases, tracking their use from tribes wandering the Iranian plateau through to the Norman conquest of England, and on to the constant language flux of the modern world. Ten years later, Keith has just released episode 168, and he's just made it to the late 1500s. He may never be able to catch up, but his passion for the subject overwhelmed his modest ambitions, and that of his listeners too, which is a great sign of a good idea.
[...]
Use Express-Checkout link below to read the full article (PDF).
comments powered by

Disqus
---
Support Our Work
Linux Magazine content is made possible with support from readers like you. Please consider contributing when you've found an article to be beneficial.
---