Goggle is my candidate for a lightweight music player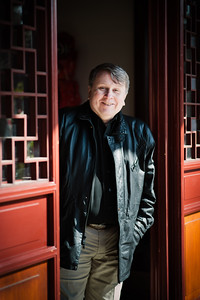 Off the Beat: Bruce Byfield's Blog
Oct 28, 2009 GMT
Like many people, I've always had a few tracks of music on my computer. However, I've only started taking a strong interest in music players since I started digitalizing my music collection a few months ago. I'm relatively sure that Amarok will handle the 50 or so gigabytes of music that I'll have when I'm done, but for the netbook I'm thinking of buying, I've been looking for something lighter. Currently, I'm thinking that Goggle Music Manager (GMM) may be the lightweight and easy to use player that I need (that's "Goggle," please note, not "Google" -- although, just to add to the confusion, Goggle is hosted on Google).
GMM packages are available for several distributions, including Arch, Debian, FreeBSD, Gentoo, Mandriva, and openSUSE. However, if the Debian package is any indication, you can't count on any dependency resolution. If you do have dependency problems, you can get a full list of dependencies from the instructions for installing from source code. You are likely to have several of the dependencies installed, but you might have to install SQLite for GMM's database and the Fox Toolkit before installing GMM.
When you have solved any dependency problems, GMM opens nimbly in a window with minimal frills. A window pops up, asking you to direct GMM to your music library, which it scans quickly; on my machine, GMM scanned a thousand songs in just under a minute.
The window layout is plain, especially when compared to Amarok's, but efficient. The left hand pane serves as a menu, with default listings for Music Library and Internet Radio, as well as any playlists you create. On the top right are panes for Artists and Albums, to which you can add Genres. On the bottom right is the playlist sorted by track number by default, but capable of being arranged by any tag or shuffled from the View menu. As soon as you start playing music, you can reduce GMM to a mini-player window, or configure it in Edit -> Preferences -> General to show an icon in the notification tray.
Despite its small footprint, GMM includes a respectable number of configuration options. You can set the list of tracks to repeat or to play randomly, and edit each track's tags, either within GMM or within the track's files. Similarly, you can choose to remove a track from the current list of tracks, or from your hard drive.
From Edit -> Preferences, you can configure even more features. You can set the sort options to ignore what GMM calls "leading words" such as "a" and "the" -- a small mercy that I wish more applications would adopt. You can also configure GMM to work with Last.fm, set whether certain widgets display in the window and where, choose several themes for the window, and even whether to use Alsa, Pulse Audio, or even OSS.
Since you can sort and shuffle your current listing of tracks, you may feel little need of playlists. However, if you do want to save the current listing, all you need to do is create a new playlist via Music -> New Playlist, then drag the current listing to the playlist in the left hand pane. The one drawback to this arrangement is that it is not immediately obvious, because no other operations require drag and dropping -- the current list is updated automatically as you select genres, artists, and albums in the top right panes.
GMM does have some limitations. If you care about cover art, you may be disappointed to find that support for it is available only through metatags, a usage that is relatively rare to find elsewhere. I also miss the ability to mass-edit all the tracks in one album that is included in Amarok. But, in general, GMM manages to avoid feature bloat on one hand and ignoring user's expectations of customization on the other hand. Although I'm still looking around, GMM is very likely the lightweight music player for which I've been looking.]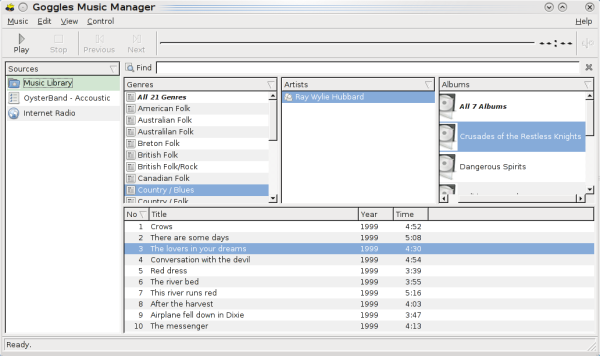 comments powered by

Disqus
---
Support Our Work
Linux Magazine content is made possible with support from readers like you. Please consider contributing when you've found an article to be beneficial.
---