Its My Duty!

Paw Prints: Writings of the maddog
May 31, 2010 GMT
On a recent trip to Ghana I took along 137 T-shirts that O'Reilly and Hackerteen had given to me to hand out at conferences. I stuffed them into my suitcases and carried them with me on the airplane, both to make sure they got there, and to avoid huge amounts of shipping cost.
When I got to the airport I had (naturally) to go through customs, who questioned why I was bringing so many T-shirts into the country. Was I going to sell them?
"No", I answered, "they were given to me to give out at a conference, and I am going to give them away as gifts."
"There is no such thing as a gift when it comes to duties," I was told.
"Well, I do not know how much they cost, since I did not purchase them, they did not cost me anything to ship, and I am going to get no revenue from them."
So we compromised. I did not go to jail, but the customs officer got five shirts for their children (or so I was told). The rest of the T-shirts went to the conference where they were given out to happy attendees.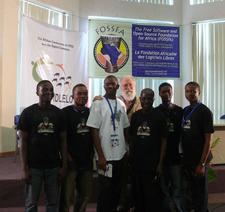 Happy Hackerteen and O'Reilly T-shirt wearers
A couple of days go past and I was informed that the 500 Fedora CDs that Red Hat had funded had arrived at the Post Office, but had not been delivered to the event because the Customs office had applied 225 USD (United States Dollars) of duty on them, and they were waiting for the duty to be paid before delivering them.
I traveled to the Post Office and found the customs officer. "Those CDs are a gift from Red Hat to the conference attendees."
"There is no such thing as a gift when it comes to duties." This mantra was from a completely different customs officer. "And the value is marked on the shipping label."
Sure enough, the shipping label declared the value of the four spindles of disks at 400 USD.
I told the officer that at home I could buy a spindle of disks like that for 20 USD apiece, and there was no way that four spindles would cost 400 USD. So we compromised at 80 USD of value with 37 USD of duty. I probably could have gotten it lower, but I had been so shocked that they were charging that much duty in the first place that I did not have all of my wits about me. Besides, the officer was probably used to people "talking her down", and I do not think she would have taken 50 CDs in payment.
This took me back to my days at Digital Equipment Corporation (DEC):
In 1986 I went to Holland to teach a week-long course on the (then) new thin-net ETHERNET
and Ultrix-32 (including NFS and X-Windows).
I had 300 overhead slides, each with a backing paper on it to separate them and protect them.
The way you made slides in those days was to print out the slide on the printer, then take a piece of temperature-sensitive plastic and send it through a machine to apply the data on the paper to the plastic.
I called up the export department of DEC and they told me that the "cost" of the slide was $1.50 per slide. Times 300 slides was $450. (in 1984).
When I got to Holland (close to midnight on the day of travel) I found that I was allowed only $100. for duty-free, and that I had to get the Digital Equipment Import Officer out of bed (by now it was 0300), and he had to come to the airport to carry my slides through customs.
When I got back to the USA, I called up the export department and asked them WHY a piece of printed paper (worth .005 dollars with a piece of cheap plastic (worth .10 dollars) was magically worth 1.5 dollars after being sent through a machine.
The DEC Export department did not know....$1.50 was what they had always put on the form.
So the next time I went to Holland with 300 slides, I marked them as .15 USD per slide...times 300 slides....was 45 USD for all of the 300 slides...
AND I SAILED THROUGH CUSTOMS with NO DUTY PAID. :-}
I called up the export department when I got back and reported the results. They were amazed.
Two years later I called up export again and asked how much to put down. They said "1.50 per slide".
I took my 500 slides electronically on my notebook.
So, if you are shipping items as a gift into a country where duty may be applied by the recipient, it may be worthwhile to put a reasonable lower value on the shipping label, just to save them some heartache at the other end.
Carpe Diem!
Comments
great story

That is a great story. Thanks for sharing.
comments powered by

Disqus
---
Support Our Work
Linux Magazine content is made possible with support from readers like you. Please consider contributing when you've found an article to be beneficial.
---