ROSE Blog Interviews: Red Hat's Mel Chua

ROSE Blog: Rikki's Open Source Exchange
Oct 26, 2009 GMT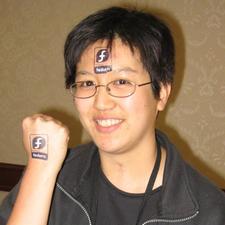 Mel Chua made her event-speaking debut at last weekend's Ontario [Gnu] Linux Fest. Congratulations, Mel!
In this interview, Mel explains how she got sucked in to open source and how she gets to Be Excited for a living leading the Fedora Marketing team.
Q: Who are you?
A: My name is Mel Chua; I go by mchua online. I'm a hacker – started with hardware, then moved to software, then communities. When I was studying (electrical) engineering, I saw the way that folks in open source communities learned how to Make Things and went "... wait, why don't we teach it this way in school?" So I took a gap year after college to volunteer on open source projects to find out how that kind of learning worked and ended up getting sucked in.
Q: What do you currently do in open source? What do you love about it?
A: I'm a member of Red Hat's Community Architecture team. I spend most of my time on open source in education teaching professors how to teach open source, leading the Fedora Marketing team, and generally getting things out of the way of people who want to Get Stuff Done. Basically, my job is to be contagiously enthusiastic. It's important to have the tech and communication skills to follow through on whatever gets sparked up – but really, I get to Be Excited for a living, which is pretty awesome. Outside of my day job, I also serve on the Sugar Labs Oversight Board and am learning a tremendous deal about project governance that way.
That's pretty hand-wavy, so: In the past 24 hours, I have...
prepared curriculum for next month's workshop for lecturers in Singapore who want to incorporate open source participation into their curriculum;
done some packaging work to help with the deployment of Fedora Insight, our platform for publishing marketing materials;
wrangled travel scholarships for FUDCon, our upcoming Fedora Users and Developers Conference in Toronto;
worked on enabling the Sugar Labs Oversight Board to effectively make decisions (articulating and implementing good project governance is harder than it sounds!);
... and more, including flying to Toronto to speak at the Ontario Linux Fest. My life contains a lot of travel right now, which is great; for the first time, I get to see the world.
There are many things I love about open source. One is that you bring who you are to the table, and that your job as a participant is to learn how to become who you want to become, instead of having to fit into some preordained square hole. Ask forgiveness, not permission.
Another one is radical transparency. I grew up as an introverted, shy kid with a severe hearing impairment sheltered by mildly paranoid immigrant parents. Being able to read mailing lists and lurk in IRC channels and overhear conversations about why this was designed that way, why so-and-so made that decision, and so on for the first time was a real revelation in How Things Come To Be The Way They Are – and by extension, how to change them. Open source lets you pop the hood of both the code and the culture that created that code, and even if all you're doing at first is listening quietly, you learn an awful lot by doing that. You never know who's watching.
Q: You're speaking to a group of women from other fields who are considering switching careers. Why should they consider moving into an open source-related career? What should they know about the open source environment to prepare them for the transition from a different field?
A: Keep in mind that everything I'm saying here is my viewpoint and my experience – everyone's is different, so take this stuff as a collection of data points rather than gospel.
First, open source is more than just code. We need folks of all sorts; whatever you do, or want to do, you can probably do it The Open Source Way. You can patch a bug, test a feature, or configure a server for an open source project, but you can also write a press release, lay out a flyer, file a patent, or teach a class.
I'd actually encourage potential career-switchers to try it out before making the switch; join a weekend hackathon or spend a few hours one evening checking out what it's like to get started with a project as a volunteer. Each project (and subproject!) is different, so try contributing to a few to see which culture suits you best. I'm always happy to talk with anyone who's interested in figuring out what it might look like for them to get started. You may even find that contributing to open source as a volunteer revitalizes what you're able to do in your current job, you get to become an ambassador of both tools and practices, and I think both communities benefit greatly from that kind of bidirectional exchange.
As for what you should know: the culture is turtles all the way down. That radical transparency I mentioned extends to sharing not just source, but meeting minutes, budgets, the rationale behind decisions. Note that this doesn't mean every decision needs to be made by mass consensus, but it does mean that the process by which it is made needs to be clear. It's okay for people to be disappointed sometimes, but it's not okay for them to be surprised. So think out loud! Tell people what you're doing!
This habit generates an immense amount of data, so you'll have to learn how to deal with information overload. Don't feel guilty about not keeping up with everything. That's pretty much impossible. Learn how to spot and focus on a few things, make a difference there, and move on. This is easier said than done, and I'm still learning it myself.
Finally, treat it as an adventure. Things are always changing; you'll continuously have to negotiate new features, new projects, new people – on the one hand, it means you have to continuously introduce yourself, but on the other hand, it means you have the constant opportunity to reinvent yourself. Embrace the diversity of chaos as a blessing, and figure out how you're going to adapt.
Q: You're speaking to a group of high school students (male and female). Why should they consider exploring career options in open source?
A: I'd repeat a lot of the same things I said above, but add the following:
1. I've never applied for a job. I thought about what my dream job would be, started doing it, and then got hired for it. In that order. Twice. Sure beats the heck out of having to put on a suit and knock on doors.
2. School teaches you about things; open source teaches you how to do things. I personally find being an engineer a lot more fun than learning about engineering. Actually, I found that when I started pitching in on open source, some of my classes suddenly became a lot more fun; when you need a bit of knowledge to complete a project, it abruptly becomes both interesting and relevant. (Try and see if you can work open source into a school assignment. Can you film an interview with a local contributor for A/V class? Can you blog reflections on the books you're reading in Modern Irish Literature?)
3. Freedom is powerful. With great power comes great responsibility. There's no single gatekeeper who can tell you yea or nay; nobody will tell you what to do. Folks can suggest you do something, and you can ask them to suggest a route – which is particularly helpful if you're just starting out – but you're always free to do what you like, so long as you recognize you'll be responsible for the consequences. That's also true for life in general.
Q: What question do you wish I'd asked? And how would you answer it?
A: Why don't our schools teach students how to be open source contributors? And the answer is: We're starting to. Getting real-world experience on a large collaborative project that can potentially impact the lives of millions of users and being able to display your contributions in a publicly available portfolio is a pretty tempting value proposition for just about everyone. (I'd love to go to grad school and study this someday.)
Check out http://teachingopensource.org to join the conversation. We know there are folks out there already doing this who we haven't found yet, and we'd love to learn from your experiences.
Comments
teaching FOSS

My school (George Washington U) has a Development of Open Source Software class, led by Mike Pinkerton, the Camino Browser project lead. He was there at Netscape when it became the first big company to switch to FOSS. Pretty much the only time you learn about mailing lists, version control, and bug reports. Unfortunately, not a required course.
comments powered by

Disqus
---
Support Our Work
Linux Magazine content is made possible with support from readers like you. Please consider contributing when you've found an article to be beneficial.
---