Issue #50 / Jan 2005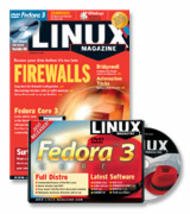 DVD: Fedora Core 3
Dear Linux Magazine Reader, This month we celebrate the 50th issue of Linux Magazine. That makes this month a sort......
Italy is Debian Country Celebrate Software Freedom in Bulgaria Breed your Cows with Open Source! The Winner is… (N......
Firewalls for the everyday
Firewalls are becoming evermore sophisticated. Luckily, the tools for managing firewalls are becoming simpler and more accessible for ordinary users
Firewall configurations with Guarddog
The KDE Guarddog program promises an easy Linux firewall setup with just a few clicks. Guarddog helps inexperienced users secure computers – and even whole networks – against attack.
Implementing a bridging-level firewall
Firewalls are typically implemented as routers,but it doesn't have to be that way. Bridging packet filters have a number of advantages,and you can add them to your network at a later stage without changing the configuration of your network components.
Analysis Tools for Firewall Logfiles
Netfilter firewalls create highly detailed logfiles that nobody really wants to inspectmanually. Logfile analysis tools like IPtables Log Analyzer,Wallfire Wflogs,and FWlogwatch help administrators keep track of developments and filter for importantmessages.
Configuring Netfilter/iptables with Shorewall
When users think about their workstations at home, they often forget about security. But danger is out there,waiting to pounce on the unsuspecting. Shorewall helps everyday Linux users keep the intruders away.
Breaking Through the BIOS Barrier: The Definitive BIOS Optimization Guide for PCs Open Source Licensing: Software Fr......
Fedora Core 3 Preview
Version 3 of Red Hat's free community-supported Fedora Core distribution will be available by the time you read this article.On the surface, very little has changed,but under the hood,Core 3 has innovations designed to improve the user experience.We investigated the final release candidate,and here's what we found.
A look at Novell's Suse Linux Enterprise Server 9
Suse has taken the lead on competitors Red Hat and Mandrake by releasing an enterprise Linux product that comes with the 2.6 kernel. What do you get with the new Suse Enterprise Linux? We'll give you a look at the best of what's inside Suse Linux Enterprise Server 9.
Visit Our Shop
Direct Download
Tag Cloud