Issue #50 / Jan 2005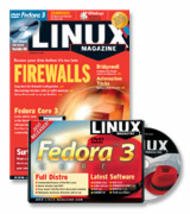 DVD: Fedora Core 3
Converting Audio Formats
The command line swings. In this
issue of "Command Line"we investigate
how you can grab tracks from
audio CDs and convert sound files to
other formats. No matter whether
you choose wav,MP3 or Ogg Vorbis,
you can rely on the shell to convert
your files.
Linux Lunacy, Perl Whirl,MySQL Swell: Open Source technologists on board
If you are on one of those huge cruising ships and,instead of middle-aged ladies sipping cocktails,you spot a bunch of T-shirt touting,nerdy looking guys hacking on their notebooks in the lounges,chances are you are witnessing a "Geek Cruise".
An up-to-date overview of free software and its makers
Free software covers such a diverse range of applications that it can be hard to find the perfect tool. In this column,we pick the best of the bunch.This month you'll learn about XFce 4.2, the PC in the PC,QBuildkde,and the latest news on the Sarge Release.
The Open Source Horoscope
Linux fans live in a special world,so it makes sense for them to have their own special star signs. If you too were born under the influence of Open Source,read on as the 2005 Linux Magazine Horoscope reveals the secrets of your future.
The Monthly GNU Column
This column looks into projects and current affairs in the world of free software from the perspective of the GNU Project and the FSF. In this issue,we focus on communication programs for mobile telephones.
Editor in Chief Joe Casad, jcasad@linux-magazine.com Competence Centers Competence Center Software & Programmin......
Visit Our Shop
Direct Download
Tag Cloud