Issue #54 / May 2005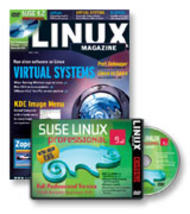 DVD: Suse Linux 9.2 Professional
Many have begun to wonder whether the dark predictions regarding Linux patent infringement reflect a real danger, o......
MASTER OF OPEN SOURCE FROM AN "ORANGE" TO AN "OPEN SOURCE" REVOLUTION? LINUX CERTIFICATION CENTERS TO OPEN IN TAIWA......
FIREFOX...
Tools for virtual computing in Linux
Once you could only choose one operating system. Then you could choose more, but you had to reboot. In today's worl......
Wine, Crossover Office, and Cedega
If you need to make a Windows application run on Linux, there is no better way than Wine. We investigated the free and commercial Wine variants to see how they bear up under real-life conditions.
The PC Emulator VMware Workstation 4.5.2 for Linux
Version 4.5.2 of the commercial VMware PC emulator was released just recently. For many users, VMware is the preeminent virtual PC. In this article, we'll tell you what's new in VMWare Workstation 4.5.2, and we'll show you how you can get started with running Linux in VMWare.
Getting started with User-Mode Linux
User-Mode Linux feels like Linux because it is Linux. You'll find a hundred uses for this fast and sensible virtual Linux system
Running Mac OS X under Linux
Emulators now give users the ability to run their beloved Mac OS X on Linux, bringing birds of a feather back together
Sendmail Milters: A Guide for Fighting Spam How Linux Works: What Every Superuser Should Know...
The Bluefish HTML editor and integrated IDE
The Bluefish HTML editor is useful for large-scale Web projects and also smaller programming projects. Syntax highlighting and code blocks help developers build projects efficiently.
Visit Our Shop
Direct Download
Tag Cloud