Issue #55 / Jun 2005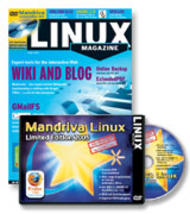 DVD: Mandriva LE 2005 (Mandrake 10.2)
Dear Linux Magazine Reader, Acronyms become buzzwords so quickly in our blog-driven society that it sometimes takes......
LINUX WINS OVER CITY NO MORE FREE ENTRY UKRAINIAN OPENOFFICE BIGGEST EUROPEAN RAILWAY COMPANY TO RUN LINUX IBM'S L......
GTK2...
The age of the interactive web
In the beginning, the web only went one way. Someone behind the server "got the content ready," and it appeared to......
Configuring and Managing Mediawiki 1.4
The best way of organizing collaboration on the Web is with a Wiki. Mediawiki, the Wiki behind the famous Wikipedia project, sets the standard for web-based collaboration tools.
COVER STORY: TWiki
The TWiki wiki and the enterprise
A wiki can keep corporate groups on schedule and support collaboration. TWiki is both a leading open-source Wiki for the enterprise and a collaboration platform for building web applications.
COVER STORY: Drupal
Drupal, the Community Framework
The PHP-based Drupal framework makes dynamic websites simple. The modular system is extensible using free modules and the appearance is template-driven. In this article, we will be delving into Drupal's range of functions and discussing installation and basic configuration.
Internet Annoyances Beginning MySQL Database Design and Optimization: From Novice to Professional...
Suse Linux 9.3 put through its paces
The latest version of Suse Linux Professional was released in mid-April. As we have come to expect, the box has a large collection of software, some new and a lot of improved Yast modules, and an extensive documentation. Read on to find out what else has changed in Suse Linux 9.3.
What's new in Gnome 2.10
The new Gnome desktop adds a variety of applications and applets. Under the hood, Gnome 2.10 is more robust.
Visit Our Shop
Direct Download
Tag Cloud