Issue #55 / Jun 2005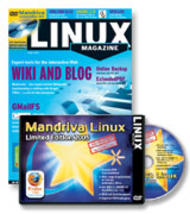 DVD: Mandriva LE 2005 (Mandrake 10.2)
mkisofs, mount, md5sum
Before you burn a data CD in Linux, you need an ISO image – mkisofs
helps you create an Iso image. To save disks, you might like to check
the image before you burn it with md5sum.
An up-to-date look at free software and its makers
Free software covers such a diverse range of utilities, applications, and other assorted projects, that it is hard to find the perfect tool. We pick the best of the bunch. This month, we'll examine DRBD, Fink, and the Debian project leader election.
The Monthly GNU Column
This column looks into projects and current affairs in the world of free software from the perspective of the GNU Project and the FSF. In this issue, I'lll focus on Comspari and the EU decision on software patents.
Visit Our Shop
Direct Download
Tag Cloud