Issue #55 / Jun 2005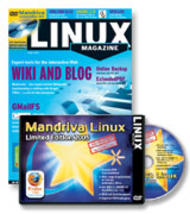 DVD: Mandriva LE 2005 (Mandrake 10.2)
GmailFS: Using a mail account as a filesystem
Why let a 2 Gigabyte email account go to waste? GmailFS lets you use Gmail as a storage medium for a mountable filesystem.
Creating full-featured PDFs in OpenOffice
The PDF format has many useful features that make it easier for readers to find their way around large documents, but the native PDF export function in OpenOffice doesn't allow many of these elements. We'll show you how to create better PDFs in OpenOffice with the ExtendedPDF macro.
The Sysadmin's Daily Grind: Mail and Queuegraph
Worms, mail bombs, and users who send multiple megabyte Powerpoint files across the wire give Postfix administrators plenty of reasons to view their charges with a critical eye from time to time.
Backing Up MySQL Databases with MySQL Backups Manager
Your web hoster is fine with serving up HTML, but when it comes to backing up a simple MySQL database, you are often on your own. Or are you?
Insider Tips: Backup with Rsync and SSH
It is often inefficient to fire up a tape drive whenever you need to back up files or restore a backup. The Rsync tool pushes critical files to a second computer, where you can access them easily.
Archiving and accessing PDFs
This month you'll learn how to place articles in a private PDF archive and how to use a database to access those articles at a later time.
Installing Fonts on KDE
A well chosen font is the perfect addition to your
Linux experience. KDE provides a number of tools
that help you cook up a really tasty alphabet soup
with very little effort.
Applications on demand with Apwal program launcher
Launching a program by clicking
with your mouse can have a few
disadvantages. Users lose their
way in nested menu structures,
and desktop icons can become
hidden behind windows. The
Apwal program launcher makes it
easy to launch with a click.
File Sharing with Apollon and GiFT
The operators of the popular Internet-based file
sharing network, Kazaa, only provide software for
Windows systems, but the GiFT project brings
Kazaa support to Linux.
Managing Gnome Fonts
Linux's text display still suffers from legacy issues, but it is well on the way to
recovering. This article explains how Fontconfig, X, and Gnome work together for
a brighter future.
Visit Our Shop
Direct Download
Tag Cloud