Issue #59 / Oct 2005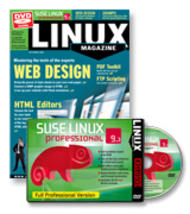 DVD: Suse Linux 9.3 Professional
Dear Linux Magazine Reader, Many years ago, when Linux was still a new experience we were all trying to understand,......
LINUX TRAINING IN GEORGIA UNDER SCRUTINITY FROM PARLIAMENT A SUNDAY AFTERNOON IN CAFÉ UTOPIK OPEN SOURCE TEACHERS FO......
GAIM CUPS FETCHMAIL...
Professional Web design for everybody
The task of setting up a Web page keeps getting easier. If you're a Linux user, you can choose from a variety of Li......
Getting Started With osCommerce
sucLooking to build an online store for yourself or for a client? If you're thinking about cobbling together a customized solution with a database and a home-built shopping cart, don't bother; look no further than osCommerce.
Better HTML with Cascading Style Sheets
Cascading Style Sheets (CSS) help you polish up your websites without taking a crash course in programming.
Web page layouts with the GIMP
Good homepage design is a question of the layout. Sometimes the best option is to use a graphics program to design the page, then translate the result into HTML code. The versatile image manipulation program GIMP can help.
A Look at Flash tools for the Linux environment
Flash is today's tool of choice for animated, interactive web content. But Flash and Linux are worlds colliding. We'll show you the current crop of Open Source Flash authoring solutions.
Classic Shell Scripting Ending Spam Hardening Linux...
A tour of Linux HTML Editors
The right HTML Editor can save you plenty of time and trouble. Read on for a roundup the best free editors for Linux.
Visit Our Shop
Direct Download
Tag Cloud