Issue #59 / Oct 2005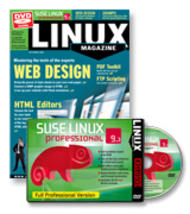 DVD: Suse Linux 9.3 Professional
A look at the Intel C/ C++ Compiler 9.0
Intel presented Version 9.0 of the C++ compiler for Intel processors in June, raising the bar for highly optimized code.
Privoxy and Webcleaner content filters
Content filters protect a web user's privacy and keep the flood of unsolicited advertising at bay. We'll show you a pair of popular Open Source content filters.
Editing web pages with FCKeditor
Small sites often have outdated information because the webmaster doesn't have time to keep all the pages up to date. Even something as simple as a spelling correction might take days to change. FCKEditor frees the webmaster by letting the user take charge.
The Sysadmin's Daily Grind: Leafnode
Leafnode is a Usenet server for small sites where just a few users need access to a large number of groups. The Leafnode server is designed to recover from errors autonomously and needs very little attention.
Building scripts for automated FTP
If you find your self executing the same few steps in FTP, you'll save time and effort with a little automation.
Insider Tips: Resolving Names in DNS
The resolver is the window from your computer to the global DNS system. Simply typing a URL awakens a link to computers all over the world.
Desktop search in Perl
On a big, busy Linux desktop, it is too easy for files to get lost. We'll show you a Perl script that creates a MySQL database to find files in next to no time.
Random backgrounds for the desktop
A new background image is the quickest way to liven up your desktop. Tools such as Zufall and genbg help you change your wallpaper auto matically.
Managing your family tree with GRAMPS
If you're planning to study your family history, you'd better be ready to manage large amounts of data. Why not use your Linux box for the hard work?
Multifunctional tool for PDF files
To manage the mountains of paper that cross our desks every day, we need to file, retrieve, copy, stamp, investigate, and classify documents. A special tool can help users keep on top of their electronic paperwork: pdftk – the PDF toolkit.
Visit Our Shop
Direct Download
Tag Cloud