Issue #62 / Jan 2006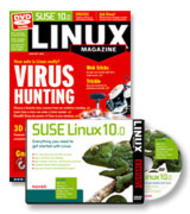 DVD: Suse Linux 10.0
The prospect of devoting an issue to viruses in Linux launched a lively conversation in our 5000-mile-wide virtual......
COPYING OSCON TO EUROPE TEACHING AFRICAN NGOS "BANGLINUX" BECOMES FOSS.IN ...
netpbm Lynx Ruby Sudo...
The ways of viruses in Linux
Some say an attack is looming, and others say we don't have to worry. What's the real story on viruses in Linux?
Virus protection tools for the Linux environment
So you want a virus checker? We'll show you what we found when we toured some of the top scanners for the Linux environment.
COVER STORY: KlamAV
KlamAV brings Clam Anti-Virus to your KDE desktop
Linux may not be as virus-ready as Windows, but who wants to harbor pointless malware? Now you can hunt for viruses with KDE's KlamAV, a desktop front-end for the ClamAV Open Source virus protection system.
Filtering spam and viruses at the mail server with Amavisd-new
Sometimes the best time to stop bad mail is before it arrives. AmavisdNew is an Open Source interface for integrating spam and virus filtering with your mail server.
Don't Make Me Think Expanding Choice...
A look at Gnome 2.12
Gnome 2.10 reconquered many desktops with its return to values such as simplicity, clarity, and ease of use. The new Gnome 2.12 GNU desktop environment continues this emphasis on the basics.
Sound Cards I have put several Linux distros on my computer, and I could never find one that successfully installed......
Visit Our Shop
Direct Download
Tag Cloud