Issue #64 / Mar 2006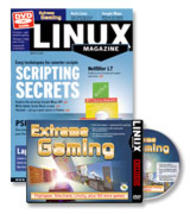 DVD: Extreme Gaming
Dear Linux Magazine Reader, It looks like Apple has finally rolled out the Intel Macintosh computer. I have written......
SPANISH DEBIAN DEVELOPERS MEET AGAIN RINGING IN THE NEW LINUX YEAR YES TO COMMERCIALIZATION 2006: THE YEAR OF DESKTO......
New tools and techniques for scripting in Linux
Even the experts know there is always more to learn about scripting. In this month's cover story, we'll show you the Google Maps API, a networking framework for Python, and some other fine tools.
Exploring the Google Maps API
We'll show you how to incorporate interactive maps into your web pages with the Google Maps API.
Creating network apps with Twisted
The Twisted framework makes it so easy to create network-aware applications in Python. Twisted speaks all the major Internet protocols, from mail through chat, and it can handle encryption. We'll show you how to set up a personal web server with Twisted.
Script tuning in Bash
In the old days, shells were capable of little more than calling external programs and executing basic, internal commands. With all the bells and whistles in the latest versions of Bash, however, you hardly need the support of external tools.
Porting Visual Basic apps to Linux
Realbasic provides an easy solution for converting Visual Basic programs to Linux.
Linux Email Server Operating System Concepts RT Essentials...
Linux on three popular laptop computers
We took three samples from the current crop of notebooks to see which performed best with Linux.
Getting back to basics with Arch Linux
If you're looking for a fast, stable system without the GUI goo, try Arch Linux.
Visit Our Shop
Direct Download
Tag Cloud