Issue #65 / Apr 2006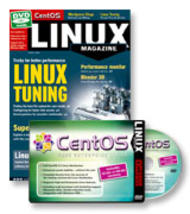 DVD: CentOS 4.2 (32-bit and 64-bit)
Dear Linux Magazine Reader, We've begun a new survey to get input from our readers on topics to cover in the coming......
NORWEGIAN LINUX CONSULTANTS EXPAND SWEDISH FUND RAISING FOR FIREFOX STOPPED FREE SOFTWARE CHINESE INPUT WORKSHOP PRO......
Techniques for better performance
Are your multimedia applications receiving the resources they need? Are you using the optimum filesystem for your environment? You don't have to be an expert to find better performance in Linux – you just need to know where to look.
Speeding up hard disks with DMA
A simple command helps you switch on the afterburner for your hard disks and drives. hdparm improves the performance of your storage devices.
Multimedia applications and the realtime priority
Linux provides tools and patches for speeding up the priority of multimedia applications. So if you're not getting the performance you expect, try shifting into overdrive.
Finding the right file system
Many users just opt for the defaults and don't think about the file system when they install Linux. But if better performance is your goal, it pays to do some shopping.
Security and Usability The TCP/ IP Guide: A Comprehensive, Illustrated Internet Protocols Reference Moving to Linux:......
High performance Linux distributions Super and Underground Desktop
Experimental Linux distributions can take risks to reach for better performance. We investigated a pair of promising experimentals: Super Linux and Underground Desktop.
CentOS GNU/ Linux and the enterprise difference
The stability and longevity of an enterprise Linux distribution costs big money – or does it?
Inode Numbers I have a query, and I am not even sure whether it is appropriate to address it to you. But just in ca......
Visit Our Shop
Direct Download
Tag Cloud