Issue #73 / Dec 2006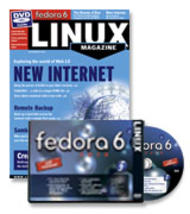 DVD: Fedora Core 6
Dear Linux Magazine Reader, We've had another lively month in the debate between the Linux kernel developers, led by......
OPEN SOURCE DEVELOPERS FOR THE DEVELOPING WORLD GERMAN COURT BACKS GPL KERNEL PROGRAMMER SUSPECTED OF MURDER LIM......
Exploring the New Internet
Modern websites bear little resemblence to their legacy predecessors. We'll show you why the new web is different and how you can benefit from the system of technologies we know collectively as Web 2.0.
COVER STORY: AJAX
Programming websites with AJAX
AJAX offers a fast and efficient approach for building interactive websites. We'll show you how to call upon the powers of AJAX for your own web creations.
Lightweight wikis without databases
If you are thinking about starting a wiki, and you don't want the overhead of a full-scale, database-driven system, try these light and lean wiki wonders.
Exploring the TiddlyWiki personal wiki
TiddlyWiki brings the spirit of the new Internet to a tiny scale. We'll show you how to get organized with this wiki for one.
Nagios is a powerful and flexible monitoring tool. I have been using Nagios professionally for about two years, and......
Exploring Opera 9
Stable, fast, and complete: Opera 9 gives you everything you need for the Internet in a compact package.
Getting started with the Citadel groupware server
The Citadel project offers an easy, stable, and versatile groupware alternative.
The fast and sensible Smart package manager
The package manager is one of the central components on any Linux system. If you have a system with unreliable package management – such as Suse Linux 10.1 – you may want to consider the Smart alternative.
Visit Our Shop
Direct Download
Tag Cloud