Issue #78 / May 2007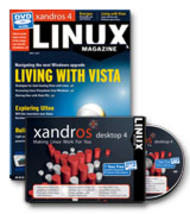 DVD: Xandros Desktop 4
Dear Linux Magazine Reader, Many of you will probably wonder why we put Windows Vista on the cover of this month's i......
SWEDISH ARMY MIGRATES DIGITAL ART FOR BRITISH FAMILIES NEW VIETNAMESE LINUX DISTRO NORWEGIAN TELCO OFFERS OPEN SOURC......
Idle User Alert Kernel Summit 2007 linux-kernel Mailing List Archives Syslet Asynchronous New I......
Memory Unbreakable Broken ...
Windows in the world of Linux
Home and business users are starting to wonder how Windows Vista will work with Linux. In this month's cover story, we'll show you Vista from the eye of Linux.
Accessing Linux partitions with Vista
Vista is no better than its predecessors at accessing Linux partitions. If you need to access a Linux filesystem from Vista, you will need a third-party tool.
Sharing files with Linux and Vista
If you want to share files your own way, Vista might need some help.
Comparing Bash with the Windows Vista shell
Microsoft's new PowerShell relies on .NET framework libraries and thus has access to a treasure trove of functions and objects. How does PowerShell measure up to traditional shells like Bash?
Ajax on Rails Red Hat Fedora Core 6 Unleashed Software Testing Foundations, 2nd edition...
Exploring the Nokia N800 Internet tablet
About a year ago, Nokia amazed the world with a handy Internet tablet, and the technology-friendly Linux community was thrilled with features like VoIP and handwriting detection on the display. We investigate its successor, which recently arrived in stores.
Visit Our Shop
Direct Download
Tag Cloud