Issue #81 / Aug 2007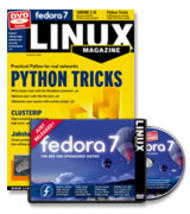 DVD: Fedora 7
Dear Linux Magazine Reader, Votes in the U.S. Congress aren't always determined by party. For some issues, geography......
A SOCCER MATCH DECIDES IT ALL DEVELOPER CONFERENCE IN RUSSIA ONE LAPTOP PER CHILD GETS MOMENTUM IN URUGUAY OPEN......
New PowerTOP Tool for Tracking Battery Usage Some Removal of Old Code New 965GM Express Chipset Driver......
Laptop Wireless Debian DVD ...
Building better and more efficient Python scripts
Save time and trouble with these expert techniques for building custom Python tools.
Getting started with Python in Linux
We'll introduce you to Python, an easy-to-learn scripting language, and also help you get started creating your own practical Python scripts.
Optimizing Python scripts
The trick to optimization is to save time in the right places.
Programming with Stackless Python
The Stackless extension brings lightweight processes to Python, opening a new style of programming with dynamic heap access.
Backup & Recovery The Brand Gap Mastering phpMyAdmin 2.8 ...
Updates and Improvements in Gnome 2.18
Gnome 2.18 appears exactly six months after the last stable release. The developers have focused on stability, but you'll also find some new and improved tools.
Visit Our Shop
Direct Download
Tag Cloud