Issue #81 / Aug 2007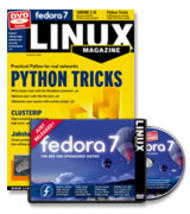 DVD: Fedora 7
Comparing Python IDEs
A number of useful development environments are available for Python in Linux. We'll show you around some popular Python IDEs that are more than just text editors.
Video editing with Jahshaka
One of the first things you notice about the free video-editing software Jahshaka is its unconventional controls. But once you master the learning curve, Jahshaka turns out to be a useful tool with professional features.
Creating ICC color profiles with Argyll CMS
An ICC color profile ensures that an image always looks the same – regardless of the output device. The free Argyll CMS software package lets you create color profiles in Linux.
Semantic web tools of the Simile project
The Simile project jump starts the semantic web with a collection of tools for extending semantic information to existing websites.
Klaus Knopper is the creator of Knoppix and co-founder of the LinuxTag expo. He currently works as a teacher, programmer, and consultant. If you have a configuration problem, or if you just want to learn more about how Linux works, send your questions to: klaus@linux-magazine. com
The sys admin's daily grind: ncdu
I've never heard of an admin having to remove disks from a server because of a chronic lack of data, but full disks are part of the daily grind. The du clone ncdu will help slim down your data.
Load balancing and high-availability clusters with iptables
Iptables gives admins the ability to set up clusters and distribute the load. But what about failover?
Building a web service filesystem with SOAP and Fuse
The Fuse kernel module lets developers implement even the most idiosyncratic of filesystems. We'll show you how to build a filesystem that relies on SOAP to publish data over web services.
Organizing character and code sets
When foreign characters occur in program code or data, Perl programmers need a solution that avoids the tribulations of Babel.
Exploring Google Earth in Linux
Google Earth lets you view the world from space and zoom in on towns, roads, and even buildings. We'll show you how to travel the planet from your Linux desktop.
Visit Our Shop
Direct Download
Tag Cloud