Issue #82 / Sep 2007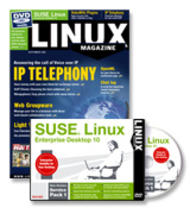 I got the strong feeling this past month that, after all the talk and ink, the long-awaited and much-discussed GPLv3......
OPEN FONTS FOR ENDANGERED LANGUAGES LINUX HAND-HELDS FOR KARNATAKA'S SUGAR INDUSTRY OPEN SOURCE AND OPEN COCKTAILS...
New Buffer Layer Code New VESA Driver New Open Sourced Touchscreen Drivers New collectl Performance......
SUSE Linux Enterprise Desktop, also known as SLED, is Novell's enterprise-ready Linux desktop system. In SLED 10, yo......
Linux on Laptops? Converting from XP to Vista ...
Exploring VoIP in Linux
Using a headset and a webcam to make phone calls is easy, interactive, and even free, thanks to VoIP. In this month's cover story, we'll help you choose a VoIP softphone, and we'll show you how to configure your own Asterisk exchange server.
Five no-cost phone clients for Linux
Looking for a softphone? We compare five Linux-ready VoIP clients.
Calling on the Network with Asterisk
If you want advanced features without the expense, try a VoIP phone system. We'll show you how to configure your own Asterisk telephone exchange server.
Getting started with Wengophone
Video telephony, calls to landlines, short messaging, and conferencing: the free Wengophone outpaces competitors in the VoIP field.
Practical Packet Analysis: Using Wireshark to Solve Real-World Network Problems Ubuntu for Non-Geeks, 2nd Edition Pr......
Visit Our Shop
Direct Download
Tag Cloud