Knoppix 5.3.1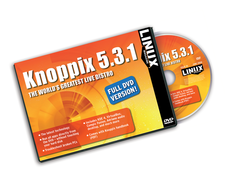 Knoppix is the quintessential Live troubleshooting tool for admins, developers, and desktop Linux users. This Debian-based distro runs directly from the DVD drive on a variety of Intel-based systems. Version 5.3 adds new features, such as VirtualBox virtualization and the Compiz-Fusion window manager. Knoppix offers an impressive collection of GNU/Linux software, as well as automatic hardware detection and support for a variety of graphic cards, sound cards, and USB devices. We are happy to bring you Knoppix 5.3.1 as this month's Linux Magazine DVD.
The phenomenon of the Live distro is sweeping the world of Linux. Just place the DVD in the tray and run the whole operating system from the removable disc – without disturbing the contents of the hard drive. Knoppix creator Klaus Knopper pioneered many of the techniques used today in other Live distros, and Knoppix remains at the forefront of the Live Linux movement.
Knoppix offers a powerful collection of troubleshooting and diagnostic tools for professional sys admins, who use it to test for problems and resurrect downed computers. But Knoppix is also a powerful desktop system, built with ingenious compression features to deliver more business applications and user tools than you would ever expect to find on a bootable DVD.
[...]
comments powered by

Disqus