Issue #93 / Aug 2008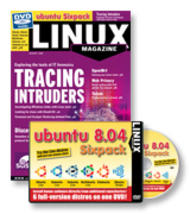 Open Source Embroidery Women Tech Carnival in Amsterdam Romanian Live Distro OSS in Scandinavia ...
Platform Manager 5.7 Real-Time Linux Kernel Support for ARM9 CPUs Sun Netra T5220 Virtualization Sp......
The arrival of Ubuntu 8.04 "Hardy Heron" signaled a new era for the whole family of distributions that use Ubuntu as a base. Kubuntu, Edubuntu, Mythbuntu, and other Ubuntu derivatives soon followed with new releases of their own projects.
Examining the art of computer forensics
You don't need expensive proprietary tools to practice the craft of computer forensics.
Forensics with BackTrack and Sleuth Kit
Once you determine a system has been attacked, boot to the BackTrack Live forensics distro and start your investigation with Sleuth Kit.
Carving tools help you recover deleted files
Modern filesystems make forensic file recovery much more difficult. Tools like Foremost and Scalpel identify data structures and carve files from a hard disk image.
Investigating Windows systems with Linux
A forensics expert explains how to extract interesting details from a confiscated Windows hard disk using standard Linux tools.
Visit Our Shop
Direct Download
Tag Cloud