This Linux on a stick protects Windows computers
Little Shield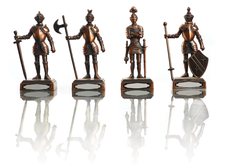 This Linux computer on a USB stick acts as a tiny mobile firewall.
A hardware-based firewall solution offers several advantages over a simple personal firewall application. In theory, a hardware firewall can prevent dangerous packets from even reaching the system it is protecting, keeping threats safely at arm's length. An outside firewall device also assumes the performance cost of protecting the system, using its own CPU cycles for packet filtering so the user system is free for user tasks.
Hardware-based firewalls are extremely common on corporate networks, but when a user takes to the road with a laptop, the situation is not so clear. Hotels and coffee house hotspots often have their own firewalls, but the user typically has no knowledge or control of the security configuration. In the past, the only option for a uniform security configuration was a personal firewall. Now, a company called Yoggie Security Systems [1] is trying to change that. Yoggie packs a complete Linux-based firewall appliance – complete with a 520MHz CPU, 128MB RAM, and 135MB Flash memory – on a compact USB stick (Figure 1). This firewall on a stick, which is known as the Yoggie Gatekeeper Pico, is available in Personal and Pro Editions for corporate use, as well as in a basic Firestick Pico version for home users. Prices range from US$ 120 to 200.
The Gatekeeper Pico is designed as a Unified Threat Management (UTM) device, which means that it integrates several security tools. According to the product description, the tool comes with 13 security applications. The open source components [2] include iptables/Netfilter as a stateful firewall, the http antivirus proxy HAVP, an SMTP proxy, and a number of others. On top of these open source tools are a number of commercial applications: Snort with Sourcefire VRT rules as an IDS/IPS; the Kaspersky engine, which checks for viruses and spyware; Mailshell, which identifies and tags spam and phishing; and the SurfControl web content filter.
[...]
comments powered by

Disqus