Issue #95 / Oct 2008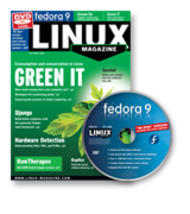 The Fedora project combines the benefits of Red Hat engineering with the freedom and flexibility of a community-base......
BBC Backstage New Russian distro for children Linux Camp on the Riverbank Poitiers to Host OSS Meet......
This month we look at Seagate hard drive announcements; Mandriva's Gdium netbook; new Red Hat solutions; JasperForge v2; AMD Linux drivers; and Gnome Linux on Garmin's Nuvi 880, 860, and 5000 navigation devices.
Fedora 9 is an evolutionary enhancement to a distribution that continues to improve with each release. The Fedora pro......
Examining power consumption in Linux
How much power is your system really using? And how much can you actually save with the new generation of energy-conserving techniques and components? This month we study the phenomenon known as Green IT.
Software-based energy savings
Save power by choosing the right system and software configuration.
Cloud computing with Amazon's Elastic Compute Cloud
Cloud computing systems like Amazon's Elastic Compute Cloud (EC2) save power and overhead by taking the peak out of your server load.
Reality and myth in the quest for green computing
Klaus sorts out fact and fiction in the debate on saving power with some real-world tests.
Visit Our Shop
Direct Download
Tag Cloud