Issue #102 / May 2009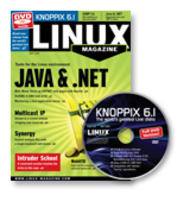 Controlling multiple systems simultaneously with Synergy
Synergy lets you combine multiple PCs into a single virtual desktop.
The world's greatest Live distro
Learn Graphic Design with OSS Dear Candidate, support OSS! Catalonia back in Microsoft's arms? ...
Linux Powers PureWave WiMAX Base Stations TI Mobile Development Platform Supports Linux GroundWork Anno......
At CeBIT 2009, Linux New Media AG presented its annual awards for outstanding contributions to Linux and Open Source. The OpenStreetMap project took two of the six Linux New Media Awards.
Implementing Java and .NET in Linux
In today's heterogeneous environments, it is hard to escape the influence of Java and .NET. So why not come prepared? This month we examine some tools and techniques for integrating the Java and .NET frameworks with Linux.
COVER STORY: DotGNU
Write standards-compliant C# programs in Linux with DotGNU
Write C# programs in Linux with the free and vendor-neutral DotGNU.
Visit Our Shop
Direct Download
Tag Cloud