Managing network traffic with WebHTB
Traffic CONTROL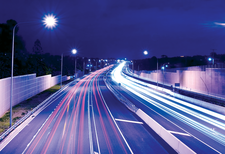 We show you how WebHTB lets you manage network bandwidth through a convenient browser interface.
Most client computers are configured to draw the bandwidth they need up to the limits of the hardware, but the default techniques for sharing bandwidth among multiple systems on a local network are often inadequate when traffic volumes climb. Many admins find they get better network performance (and fewer user complaints) by imposing a system that places limits on individual bandwidth usage. For instance, imagine what would happen if several of the systems on a local network simultaneously started downloading movies from torrent sites, using up to 98 percent of the collective download and upload capacity. The other users on the network would complain, and you as the network administrator would have to devote precious time to troubleshooting and answering email. Why not let an automated system impose bandwidth management that addresses these kinds of issues?
Unfortunately, the tools that take advantage of the QoS (Quality of Service) entry in the Linux kernel are often difficult to set up and configure, and the best ones require a kernel recompile. The HTB-tools package [1] has long been a standard Linux tool for limiting bandwith use. Although it requires a lot of calculations and fiddling with configuration files, you can fine-tune HTB-tools to meet the needs of your network.
An easy alternative for managing traffic flow on your local network is a tool called WebHTB. WebHTB (Figure 1) is a set of PHP files that can help you allocate bandwidth through a web-based AJAX front end. WebHTP lets you limit bandwidth on external and internal IP addresses and manage bandwith on private Secure Network Address Translation (SNAT) addresses.
[...]
comments powered by

Disqus