Issue #103 / Jun 2009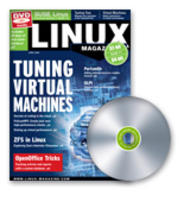 SUSE Linux Enterprise Desktop (SLED) is Novell's top-end desktop Linux for corporate environments. Inside you'll fin......
An international look at Linux and Open Source
4th Oekonux Conference: The World of Peer Production in open source Boro-Toro wins BAFTA "Ones to Wat......
We thought you might be interested in the following new products and updates.
Linux Now Operates on HRP-4C Robot Gnome Adds Native Exchange Support Jaiku is now JaikuEngine AMD......
While I am not new to Linux, I still have some confusion. My dilemma is: "What distro to use and why?" I have tried v......
Smart tools for the cloud and rack
The server space is changing, bringing new opportunities for the agile admin. If you plan on taking up residence in the new data center, you'd better get your toolkit ready. This month we explore tools and techniques for data center and server room environments.
Tips for optimizing performance in virtual environments
Virtual performance tuning is a lot like ordinary performance tuning – but not exactly.
Programming for the Amazon EC2 cloud
We show you some techniques for harnessing the benefits of cloud technology.
Turn your desktop computer into a high-performance cluster with PelicanHPC
Crunch big numbers with your very own high-performance computing cluster.
Visit Our Shop
Direct Download
Tag Cloud