Performance that the GUI can't touch
Terminal Magic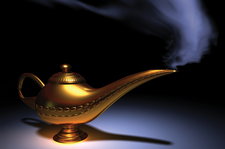 Far from an anachronism, the command line lives on as an indispensable part of the modern free desktop. Viva the command line!
Does the command line still matter in GNU/Linux? Considering recent developments, you could be forgiven for wondering. Canonical is concentrating on making Gnome rival OS X, but no equally large effort is being made to improve the shell. A few ingenious applications such as xclip or terminator exist, but for every new shell program on the CLI-Apps site, there are dozens on openDesktop.org. These days, the wisdom is that the command line is for aging curmudgeons, and the future of free operating systems is on the desktop. Yet, despite a few limitations, the truth is that the command line still has distinct advantages over the desktop and probably always will.
I wanted to write this column because I believe in the value of the command line. In future columns, I'll channel the spirit of my late colleague Joe Barr, whose CLI Magic column ran for years, and I'll explore the tools and tricks that make the command line an indispensable part of a modern free desktop – and not the anachronism that the desktop-fixated often assume. A decade ago, no one needed to argue about this because the widespread opinion among GNU/Linux users was that the desktop worked fine for trivial purposes, provided that you used a minimalist window manager such as FVWM and avoided Gnome or KDE, which were already being described as "bloated."
Serious work, whether development, package installation, or any other administrative task, was done from the command line. If you hadn't compiled your own kernel, you were a dilettante and probably a Windows user as well.
[...]
comments powered by

Disqus