The ZFS on Linux with FUSE
Zed House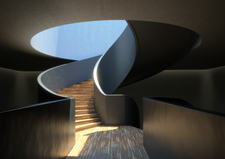 License issues prevent the integration of ZFS with the Linux kernel, but Linux users can try the highly praised filesystem in userspace.
Sun's Zettabyte File System (ZFS) [1] was officially introduced to (Open)Solaris [2] in June 2006, replacing the legacy UFS (Unix File System). ZFS is a 128-bit filesystem with a number of interesting features, such as improved safeguards against defective disks and the ability to manage large numbers of files. Because currently there are no 128-bit data types, ZFS uses the first 64 bits and pads the rest of the structure, ignoring the unused bits in normal operations. The 128-bit design will make it easier to migrate to 128-bit types some time in the future.
The Logical Volume Manager (LVM) lets ZFS pool physical media (drives or partitions). Native RAID functionality allows users with more than two hard disks to set up a RAID pool. (Compared with RAID 5, RAID Z in ZFS has faster write access and is safer if your hardware fails.)
ZFS's list of capabilities includes an automatic snapshot feature to save filesystem states. ZFS only stores the vector to the previous snapshot. This design lets the filesystem create "clones." In contrast to a snapshot, a clone supports read and write access. ZFS also makes it easy to add new hard disks or replace defective disks on the fly. Online compression, which you might remember from NTFS, is another useful extra.
[...]
comments powered by

Disqus
Visit Our Shop
Direct Download
Read full article as PDF »
ZFS.pdf
(275.34 kB)
Tag Cloud