Issue #104 / Jul 2009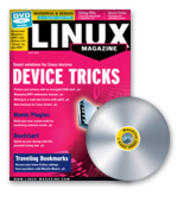 Perl keeps track of online orders
A distributed database based on the distributed Git version control system relies on a Perl script to help users track Internet orders. When the goods arrive, purchasers update their stock counts, wherever they may be at the time.
Structuring projects with XMind
Mind mapping programs let you visualize projects and plans on your PC. If you want to work more efficiently, you'll want to keep the free XMind for Linux in mind.
RSS reader, to-do list, drawing pad, and more
Makagiga includes a bulletin board, an RSS reader, a notebook, a calendar, and a task scheduler, with all the components intelligently linked.
Managing reminders and microblogs in OpenOffice
If you spend a lot of time in OpenOffice, you can use it to remind you of deadlines or to update your microblog.
Take control of the command line
Ease into your comfort zone with these tips for customizing Bash.
Quality software engineering
When it comes to software engineering, we need more of it.
An up-to-date overview of free software and its makers
Voice over IP on the Internet gives communication a personal touch, but it takes applications like Cheese and WebcamStudio to exploit the creative potential of Internet telephony.
Visit Our Shop
Direct Download
Tag Cloud