Issue #106 / Sep 2009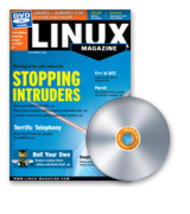 This month's DVD comes with both Ubuntu 9.04 and the popular Kubuntu variant on a double-sided disc....
Roaring Penguin and Kaseya Fight Spam Netbook Runs Android and Windows New NETiON and CXC SmartClients Linux Ha......
Understanding, detecting, and preventing network attacks
This month we look into the intruder's toolkit and investigate some prudent counter-measures for detecting and preventing attacks.
A guided tour to someone else's network
You need to think like an attacker to keep your network safe. We asked security columnist Kurt Seifried for an inside look at the art of intrusion.
Tools for visualizing IDS output
Spot intruders with these easy security visualization tools.
Securing your system with Linux Intrusion Detection System
If you're ready for mandatory access control and you're looking for an alternative to SELinux and AppArmor, try locking down your system with Linux Intrusion Detection System.
Visit Our Shop
Direct Download
Tag Cloud