Lightweight content management systems
Web Weigh-In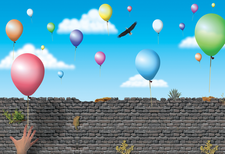 Would you like a content management system that's actually easy to manage? We take a closer look at some user-friendly CMS solutions, including Pluck, SkyBlueCanvas, and NanoCMS.
When you set up a website, you usually do so because you want to publish something, not because you want to spend time learning the intricacies of your content management system (CMS) or tinker with templates.
In most cases, what you need is a CMS that is easy to install and maintain and allows you to create pages without spending hours reading documentation. If that's what you are looking for, you'll be pleased to learn that quite a few lightweight CMS solutions are available.
Pluck
If you need to set up a foolproof CMS that has virtually no learning curve, consider Pluck [1]. Unlike many high-end CMSs, Pluck doesn't use a database back end, which makes installation, troubleshooting, and maintenance significantly easier. To install Pluck, download the latest release of the software and unpack the downloaded archive in the document root of your server. Set the permissions of the pluck directory to 777, then point your browser to http://yourserver/install.php. After you enter the required information, give your website a name, and add some text to the homepage, your website is ready to go.
[...]
Comments
Missing dependency - PHP

Thanks for the article. There was plenty of great content with both database and database-free CMS applications covered. However, PHP was required for all. Are there reasonable, small CMS apps that do not require a database or PHP? A flat file CMS with java support would take minimal server support- if it exists.


More Open Source CMS's to Try

Great article about light-weight CMS's. They're just what many people need, and even some pro's can use them for those times when sometimes they need to get some content on the Web in a hurry. Perhaps your readers could also take a look at the "Open Source CMS" http://opensourcecms.com/ Using the "CMS Demo Menu" visitors can try out many similar CMS's, both as a visitor and as an administrator. My favourite CMS (Portal) is "Website Baker".
Cheers,
KimCR
comments powered by

Disqus