Issue #98 / Jan 2009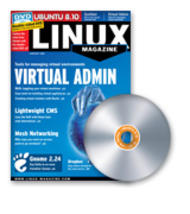 DVD: Ubuntu 8.10
The powerful and practical Ubuntu Linux is known around the world for reliability and ease of use. Ubuntu's unclutte......
Professional users are always searching for an edge. Whether you work with Linux as a webmaster, programmer, system administrator, or security consultant, you know the best solution depends on finding the right tool for the job. We thought you might be interested in the following new products and updates.
Blender Rocks Europe German Webshop Solution Nordic Drupal Camp European Source Code Repository ...
Tools for managing virtual environments
This month we examine techniques for deploying and managing virtual systems.
COVER STORY: MLN
Administering virtual machines with MLN
This simple command-line tool helps you keep ahead of your virtual infrastructure.
Building virtual appliances with VMware Studio and SUSE Studio
A virtual appliance combines the benefits of virtualization with the simplicity of a single-service device. We show you how to roll your own virtual appliances with VWware Studio and SUSE Studio.
Creating virtual clusters with Rocks
Rocks offers an easy solution for clustering with virtual machines.
Visit Our Shop
Direct Download
Tag Cloud