Business intelligence with OpenOffice.org Base
Base Builder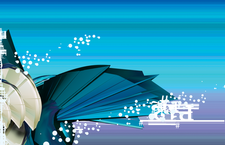 Learn how to analyze your business data with the help of OpenOffice.org Base and the Sun Report Builder extension.
If you own a business or work as a freelancer, analyzing your business data can be as useful as it is for corporations. Investing thousands of dollars in high-end business intelligence (BI) tools isn't required; in many cases, the OpenOffice.org Base application combined with the Sun Report Builder extension can do the job just fine.
Sun Report Builder [1] uses the same reporting engine as the Pentaho BI suite [2], and its pedigree makes it a perfect tool for analyzing your business data. OpenOffice.org Base, in turn, can connect to a variety of database systems, so you can use it to pull data from virtually any business application that uses a database and analyze it with the tools offered by Sun Report Builder. Take, for example, BambooInvoice [3], an easy-to-use invoicing application based on MySQL/PHP [4]. Although it does a good job managing invoices, BambooInvoice is rather limited when it comes to analyzing the invoicing data. OpenOffice.org enters the picture here. Using the Base/Sun Report Builder combo, you can create a solution that allows you to view the invoicing data from different angles and turn numbers into easy-to-digest graphs.
Before you start, make sure that you have the Sun Java Runtime Environment and the latest version of the Sun Report Builder extension installed on your system. Connecting OpenOffice.org Base to BambooInvoices's database back end is the first order of business. To do this, you need a small piece of software, called a connector, that acts as a bridge between the MySQL-based back end of BambooInvoice and an OpenOffice.org Base database.
[...]
comments powered by

Disqus