Issue #99 / Feb 2009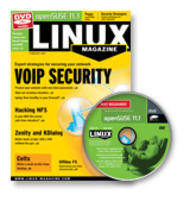 DVD: openSUSE 11.1
Application development for the Cell processor
The Cell architecPIture is finding its way into a vast range of computer systems – from huge supercomputers to inauspicious Playstation game consoles. We'll show you around the Cell and take a look at a sample Cell application.
Profilers identify bottlenecks in Perl programs
Instead of souped up CPUs, simple programming tricks are often all it takes to speed up a program. Profilers can discover bottlenecks that need more TLC from the developer.
Individual bootsplash for your own system
Users interested in customizing even the smallest detail of their machines will probably want to modify the boot screen. We show you how to carry out this task with openSUSE 11, Ubuntu 8.x, and their derivatives.
Creative prose writing with Celtx
Whether you plan to publish a comic or a manuscript, you need to manage a volume of material. Enter Celtx, which combines a database and text editor into a comprehensive tool.
Nifty Firefox extensions
We look at a few extensions that can make your daily work with Firefox more enjoyable and efficient by removing tiny annoyances and adding nifty features.
The art of selling free software
The open source community doesn't have a fleet of attorneys and PR consultants. When it is time to make the case for free software, you might just have to be the advocate.
Visit Our Shop
Direct Download
Tag Cloud